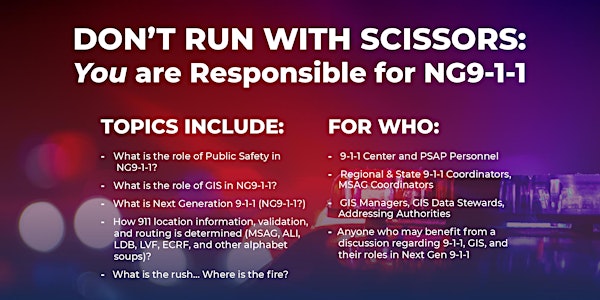 Don't Run With Scissors: YOU are Responsible for NG9-1-1 - San Diego, CA
When and where
Location
San Diego Sheriff Communications 5580 Overland Ave Briefing Room San Diego, California 92123
Description
Please join us for a free, educational workshop on NG9-1-1 and GIS.

Beyond the 98%™: Don't Run With Scissors: You are Responsible for NG9-1-1 is a half day course focused on educating public
safety and GIS professionals on key NG9-1-1 topics.
NG9-1-1 is evolving quicker than ever before, the timeline to ensure your PSAP and GIS is ready for
NG9-1-1 is rapidly approaching. While portions of the NG9-1-1 world is evolving, GIS has been identified as a mission-critical component. GIS is used in many 9-1-1 centers, public safety responder agencies,
as well as, local, state and federal government processes in the United States. In an NG9-1-1
environment, GIS will be used in an unconventional manner. Unlike use in post-call processes, GIS will take on a critical role in pre-call delivery through NG9-1-1 call routing. This course will introduce a standard, best practices and introductory workflows required to ensure NG9-1-1 data readiness to get your data Beyond the 98%™ required by NENA.
Lunch will be provided.