Location
Rosen Centre Hotel
9840 International Drive
Orlando, FL 32819
dominknow Learning Systems is attending this year's Learning Solutions Conference and Expo in Orlando, Florida from March 31 - April 2.
About this event
As Learning Solutions 2020 has been canceled due to health and safety precautions, we regret to inform that all dominKnow activities tied to Learning Solutions will also no longer be taking place.
---
See the latest dominKnow | ONE updates!
Our crew of Learning Experts are excited to head down to Orlando for LSCon 2020 at the end of the month! We look forward to talking about dominKnow | ONE, our All-In-One eLearning Authoring Tool, and all of it's newly, much anticipated system features of 2020 recently introduced alongside a number of awards! Not to mention, we can't wait to meet with folks from our current user base, and attendees interested in improving their own training strategy!
⇨ We want to meet you!
Schedule a meeting with us! - You can book a time to meet us by selecting the proper ticket through this Eventbrite page!
Schedule a meeting with a dominKnow | ONE Authoring Tool Expert while you're at Learning Solutions. Get a personalized product demo, ask questions and see the tool's amazing features play out in person!
⇨ Already a member of the dominKnow User Group?
Join us at our Meetup! - Sign up for our dominKnow User Group Meetup by selecting the proper ticket through this Eventbrite page!
Join fellow dominKnow users to catch up and network. It's a great chance to meet other teams, share ideas and learn from each other - all very informally!
As this meetup is connected to Learning Solutions, this will be held at a venue within walking distance of The Rosen Centre.. Specific location to follow. Please make sure everyone on your team who can attend registers so we can have an accurate count for the venue.
Instructional Designers In Offices Drinking Coffee... Live!
Not only will a number of team members from dominKnow make their way over to the show, but also Brent Schlenker and Chris Van Wingerden from the popular live learning community - Instructional Designers In Offices Drinking Coffee (or IDIODC).
With that said, you'll be able to visit a completely IDIODC dedicated expo booth, entirely focused on keeping the candid and honest learning conversation going! You'll get the chance to meet show hosts, ask questions and even get some #IDIODCSwag. Be sure to visit the booth regularly for a number of live speaking discussions on topics geared for the Learning Professional, that you can even join in on!
Paul Schneider's Session on eLearning Accessibility
dominKnow's own Paul Schneider has a speaking session all about accessibility and inclusive design at Learning Solutions!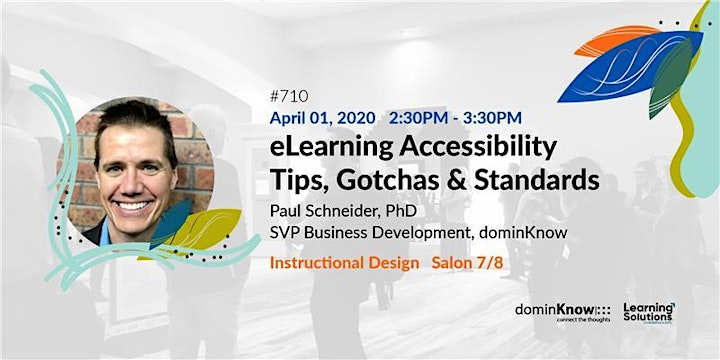 You can find the dominKnow and IDIODC team at booth 508 in The Learning Solutions Expo from March 31 - April 1.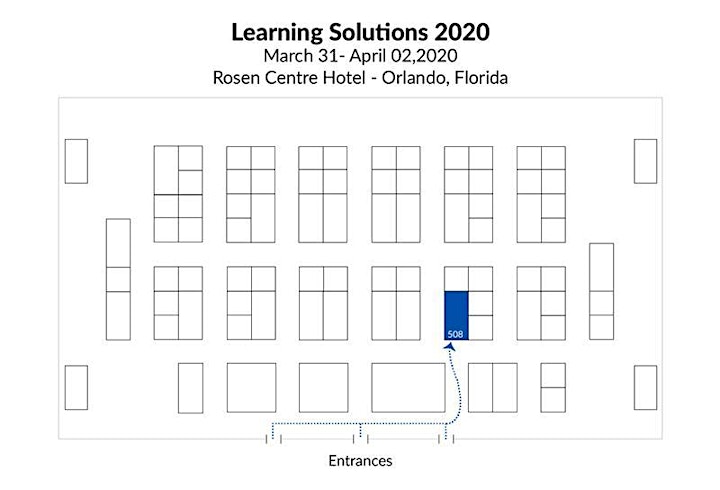 Get introduced to dominKnow | ONE with our introductory video and visit our website to learn more!
Looking to get started ASAP? Jump into a free 14-day trial now!