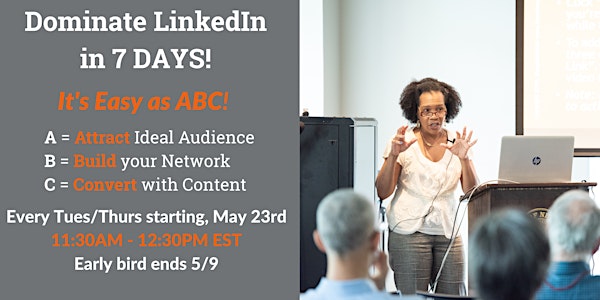 Dominate LinkedIn in 7 DAYS: How to Attract, Build and Convert
Dominate LinkedIn in 7 DAYS: How to Attract, Build and Convert Your Ideal Network. A live mastermind for business owners and professionals.
By LiveWire Collaborative
Date and time
May 23 · 8:30am - June 13 · 9:30am PDT
Agenda
11:30 AM - 12:30 PM
DAY 1 - Dominate with a First Impression
---
✨Stop the Scroll: Create Visuals That Demand Attention ✨Captivate the Crowd: Craft a Compelling LinkedIn Headline ✨Be Your Authentic Self: Showcase Your Personality on LinkedIn
11:30 AM - 12:30 PM
DAY 2 - Broadcast Your Story with Impact
---
✨Master the About Section: Build Your Personal Brand Story ✨ Win with Technology: Use AI to Craft a Compelling About Statement
11:30 AM - 12:30 PM
DAY 3 - Optimize Your Experience and Expertise
---
✨From Ordinary to Extraordinary: Making Your Experience Stand Out on LinkedIn ✨ Skills that Impress: How to Optimize Your Skills for Maximum Visibility ✨ Endorsements vs. Recommendations: The Dos and...

11:30 AM - 12:30 PM
DAY 4 - Attract Your Ideal Audience
---
✨ Profile Perfection: Recap of Days 1-3 and Best Practices for LinkedIn Optimization ✨ From Good to Great: Putting the Final Touches on Your Killer Profile ✨ Profile Hot Seats: Get Feedback from Your...

11:30 AM - 12:30 PM
DAY 5 - Build Your Network
---
✨ The Power of Connection: Building a Quality Network on LinkedIn ✨ Grow Your Network Exponentially: Tips for Connecting with People You Already Know ✨ From Alumni to Industry Leaders: Leveraging Uni...

11:30 AM - 12:30 PM
DAY 6 - Convert with Content
---
✨ The Secret to a High-Performing LinkedIn Post: Tips and Tricks from the Pros ✨ The Art of Engagement: How to Nurture Relationships with Your LinkedIn Connections ✨ The Art of Conversation: How to E...

11:30 AM - 12:30 PM
DAY 7 - Entering The Final Frontier
---
✨Mastering LinkedIn Analytics: How to Measure Success and Optimize for Results ✨ Bringing It All Together: Using LinkedIn to Attract, Nurture, and Convert Your Ideal Clients ✨ LinkedIn Power Hour: Fi...

About this event
21 days 1 hour

Mobile eTicket
Are you struggling to generate leads and grow your network on LinkedIn? Tired of ineffective strategies that don't deliver results? It's time to unlock the full potential of your LinkedIn presence!
Starting on Tuesday, May 23, 2023, from 11:30am - 12:30pm EST, and continuing every Tuesday and Thursday through June 13, 2023, you'll join Angela Pitter, Founder & CEO of LiveWire Collaborative, for a transformative 7-Day Mastermind event that will empower you with proven techniques to attract, build, and convert your ideal target audience on LinkedIn.
Choose Your Membership Level for a Tailored Experience
Community Members:
Access to 7 x 1-hour live interactive sessions
24-hour access to each recording session
All-Access/VIP Members:
All benefits of Community membership
Daily worksheets
Unlimited replays of video recordings
1 Bonus session - AMA (Ask Me Anything)
6-month access to all 8 sessions
Access to the private Facebook group for ongoing support and networking
Here's what you'll achieve during these action-packed 7 days:
Transform your LinkedIn profile into a powerful personal branding tool that commands attention
Create irresistible visuals, headlines, and About statements with the help of cutting-edge AI technology
Optimize your Experience section, skills, endorsements, and recommendations for maximum impact
Discover advanced profile optimization tips and tricks and participate in hot seat reviews for personalized feedback
Learn smart strategies for building a high-quality network and crafting engaging connection requests
Develop a winning content strategy, create shareable posts, and maximize engagement with daily activities and post scheduling
Measure your LinkedIn marketing success with post analytics and Social Selling Index (SSI) scores
Limited-Time Offer: Register by May 9th and save $50 with our Early Bird Discount!
Ready to dominate LinkedIn and skyrocket your success?
Don't miss this exclusive opportunity to level up your LinkedIn game and accelerate your professional growth. Click "Register" now and choose your membership level.
Hurry - the Early Bird Discount ends on May 9th!
What former participants have said about training from Angela Pitter, Founder & CEO, LiveWire Collaborative
"I took Angela's LinkedIn #14 Day Challenge and found it very invaluable. The extensive knowledge Angela shared made the effort of utilizing LinkedIn to brand myself furthermore comprehensive and seamless. I recommend Angela to anyone with similar needs. She is an expert in this field!"
"Angela possesses a keen mind and very powerful insight for social engagement supporting professional development. She's on top of leading tools, technologies and methods: She's blended all this plus her unbounded enthusiasm for our professional development and happiness into a very focused set of services she willingly shares. When you want to rebrand yourself or find a way to bring your services and skills to a more focused audience, there's no one better."
"Angela is the most knowledgeable trainer/consultant for LinkedIn, I have thoroughly enjoyed the journey thru the 14 Day Challenge!"
JUST the FACTS
WHO is this event for?: If you're a busy professional, business owner, solopreneur, coach, consultant, or corporate executive looking to level up your LinkedIn game and connect with the right people, this 7-day intensive is for you.
WHAT's included for each tier member?: This Seven Day LinkedIn Mastermind is a live online training event hosted by Angela Pitter, LiveWire Collaborative and includes the following:
Community members receive access to 7 x 1-hour live interactive sessions and 24-hour access to each session.
All-Access/VIP members get the same 7 x 1-hour sessions, plus 1 private AMA (Ask Me Anything) session, 6-month access to all 8 sessions, daily worksheets, and access to the private Facebook group.
WHERE does the event take place?: At your home or office! You can watch this online mastermind anywhere using your laptop, tablet or mobile phone.
WHEN does this event take place?: This mastermind kicks off Tuesday, May 23, 2023, 11:30AM EST, for 1 hour. It takes place weekly, every Tuesday and Thursday through Tuesday, June 13, 2023 with a bonus day on June 15th for VIP members only.
Doesn't fit with your schedule? Don't worry—with the All-Access/VIP ticket you'll recieve the recordings, so you won't miss a thing. You'll have access to all the sessions through December 15th, 2023.
WHY would you want to attend?: You'll be able to build a LinkedIn Profile optimized for search that gets you found and positions you as an authority in your industry. Attending will ensure you become recognized and exponentially improve your visibility on LinkedIn.
HOW can you register and join?: Simply register below and choose your membership level. We'll email you instructions for your exclusive access to this 7-Day LinkedIn Mastermind. Remember, the early bird discount of $50 ends on May 9th!
About the organizer
Angela is Founder and CEO of LiveWire Collaborative, a digital marketing consultancy. LiveWire Collaborative helps business owners and executives to tap into digital marketing solutions that unleash their brand's full potential. They're known for building comprehensive solutions that expand and strengthen customer engagements. Services at LiveWire Collaborative include: Online Strategy Development and Implementation for mid-size businesses, Social Media Training for corporations or organizations, one-on-one Executive Coaching, Social Media Analysis, as well as Facebook Ads and Email Marketing. Additionally, Angela's trained intact boards and teams on how to build thought leadership and become social ambassadors as well as several thousand professionals on hot topics such as "How to" Facebook, LinkedIn, Twitter, Instagram and "Unleashing Your SuperPowers with Video".
Angela is a highly sought-after speaker who was recently featured on Chronicle's, WCVB TV social media segment, has spoken at the Massachusetts Conference for Women, CWE Women's Business Leaders Conference and General Assembly to name a few. She's been invited to guest lecture at Babson, Bentley, UMass Boston among other universities.
Previously, Angela spent 20+ years in high-tech and brings extensive experience leading global teams and products to the market. She holds an M.S. in Administration and B.S. in Computer Engineering. Follow her on twitter: @angelapitter