Description
An all-star panel sponsored by the Independent Women's Forum will explore one of the more pressing questions of our day: Does the middle class have a future?
OUR OCTOBER 27TH EXPERT PANEL WILL TACKLE THE HARD QUESTIONS:
What does it take to be middle class?

How do you get in the middle class?

How do they remain there and aspire to grow upwards?

What barriers are getting in the way?

What part do values play?

Can the middle class hang on in an economy that isn't growing?
You won't want to miss this discussion! It will have implications for this year's presidential election - and beyond.
5:30pm Wine Reception
6:00pm Panel Discussion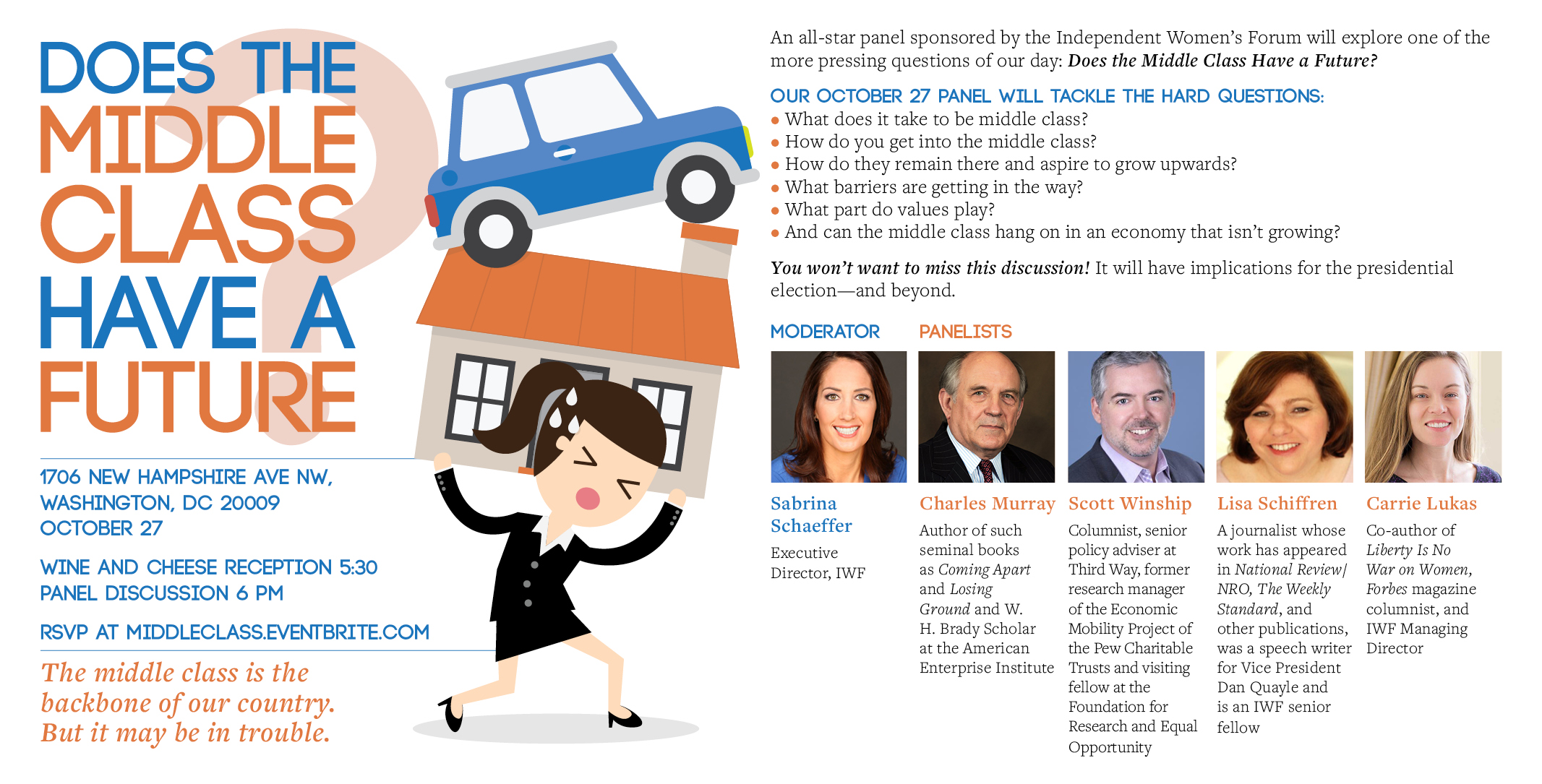 MODERATOR:
Sabrina Scheffer
Sabrina L. Schaeffer is the executive director of the Independent Women's Forum.
PANELISTS:
Charles Murray
Charles Murray is the W. H. Brady Scholar at the American Enterprise Institute. A political scientist, author, and libertarian, he first came to national attention in 1984 with the publication of "Losing Ground," which has been credited as the intellectual foundation for the Welfare Reform Act of 1996. His 1994 New York Times bestseller "The Bell Curve" (Free Press, 1994), coauthored with the late Richard J. Herrnstein, sparked heated controversy for its analysis of the role of IQ in shaping America's class structure. Dr. Murray's other books include "What It Means to Be a Libertarian" (1997), "Human Accomplishment" (2003), "In Our Hands" (2006), "Real Education" (2008), and the New York Times bestseller "Coming Apart" (2012). His most recent book, "By the People: Rebuilding Liberty Without Permission" (Crown Forum, 2015) urges Americans to stem governmental overreach and use America's unique civil society to put government back in its place.
Dr. Murray has Ph.D. in political science from the Massachusetts Institute of Technology and a B.A. in history from Harvard University.
Scott Winship
Scott Winship is a visiting fellow at the Foundation for Research on Equal Opportunity ((FREOPP), a new think tank started by Avik Roy). Previously, he was a Walter B. Wriston Fellow at the Manhattan Institute and before that he was at the Brookings Institution. Winship's research interests include living standards and economic mobility, inequality, and insecurity. Earlier, he was research manager of the Economic Mobility Project of the Pew Charitable Trusts and a senior policy advisor at Third Way. Winship writes a column for Forbes.com; his research has been published in City Journal, National Affairs, National Review, The Wilson Quarterly, and Breakthrough Journal; and he contributed an essay on antipoverty policy to the ebook Room to Grow: Conservative Reforms for a Limited Government and a Thriving Middle Class(2014).
Lisa Schiffren
Lisa Schiffren is a Senior Fellow at the Independent Women's Forum. A journalist, her work appears in National Review /NRO, The Weekly Standard, and other publications.
Schiffren is a native New Yorker, with a B.A. in History from Bryn Mawr College. She was an editorial writer at the Detroit News, winning awards for coverage of welfare policy, crime, education and other urban issues. She covered national politics and spent a couple of years in and out of Pakistan and Afghanistan covering the Soviet War, traveling on foot and horseback, with the Mujahedeen. A stint in the Defense Department's office of Special Operations/Low Intensity Conflict, followed. Then it was off to the Bush I White House, where she wrote speeches for Vice President Dan Quayle, including the well known "Murphy Brown" speech, which ultimately sparked national interest in longstanding welfare reform goals. Both issues – Afghanistan and the consequences of widespread single motherhood – still threaten the continuity of Western Civ, and require frequent comment.
Carrie Lukas
Carrie L. Lukas is co-author of Liberty Is No War on Women, Forbes magazine columnist and managing director of Independent Women's Forum.
QUESTIONS? Please contact events@iwf.org