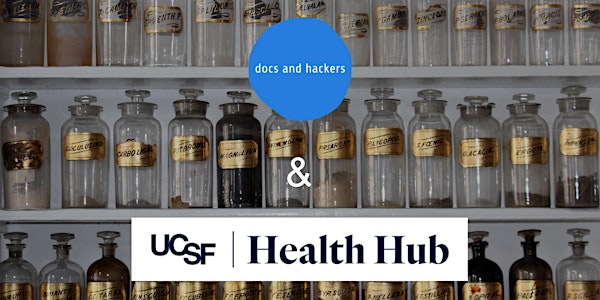 Docs & Hackers @ UCSF Health Hub: Hacking Longevity with Dr. Florence Comit...
Location
UCSF
Mission Hall
550 16th St
San Francisco, CA 94158
Description
Docs and Hackers and UCSF Health Hub are collaborating to host a winter meet-up at UCSF Mission Bay! Dr. Florence Comite will join for a conversation titled 'Hacking Longevity: Leveraging N-of-1 Data to Optimize Health'. We will also hear from Mark Goldstein, Chairman and Founder of the UCSF Health Hub about opportunities to work alongside some of San Francisco's most innovative scientists and entrepreneurs.
In addition to this scheduled conversation, there will be lots of time to meet other healthcare enthusiasts, builders and dreamers. Share new digital health ideas, get feedback from the group and potentially form teams. Whether it is for a side project, a new startup or a research paper.
Register today to meet like-minded innovators and get inspired!
AGENDA AND SPEAKERS:
6:00 - 6:30: Registration and Networking
6:30 - 6:45: Mark Goldstein, UCSF Health Hub and Dr. Tim Puri, Docs & Hackers
6:45 - 7:15: Startup Pitches
7:15 - 7:45: Conversation with Dr. Florence Comite
7:45 - 9:00: Networking

More about the event
Technology was supposed to improve healthcare. Unfortunately, it has increased physician work load and decreased doctor-patient time at a significant cost to the taxpayer. We are collaborating with Docs and Hackers because they are a group of medical practitioners and technology builders who aim to reverse this trend and accelerate innovation in digital health. Increasing connections between physicians and programmers will help both groups understand each other better, and create solutions that help patients stay healthier. See you at the event!

More info: http://www.docsandhackers.com and www.ucsfhealthhub.org
FAQs
What are my transportation/parking options for getting to and from the event?
Directions to UCSF Mission Bay - Mission Hall: here
If you are driving in, there are several pay Parking garages near Mission Hall, and if you prefer to park for free there is free street parking down 16th street on the other side of the railroad tracks.