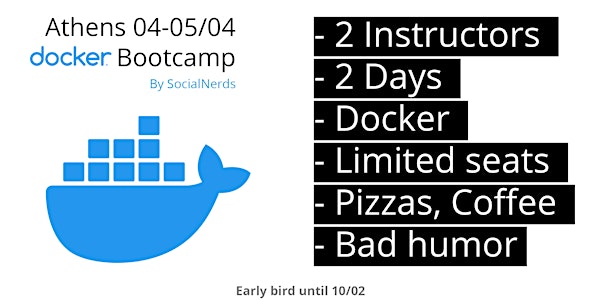 Docker Bootcamp - SocialNerds
Step up your Docker game by attending our 2 day workshop.
When and where
Location
Human Factor 32 Evaggelikis Scholis 162 32 Vyronas Greece
About this event
This Workshop is sold out! Please tell us what workshop, you'd like to see in the future.
_________________________________
Docker is the cornerstone of modern software development and deployment. It doesn't matter what programming language or tools you use, Docker is the ultimate tool that binds everything together.
Attend our 2 day workshop and learn everything you need to know in order to start using Docker immediately.
No previous Docker experience is required.
In case you already use Docker, this is a good opportunity to revisit things you may have skipped.
During the course, you will solve a lot of assignments in order to get better understanding of the lectures. The difficulty of exercises will escalate progressively as the courses continue.
You will learn how to:
Create a Dockerfile
Run docker services
Setup custom networks
Setup bind mounts and volumes
Setup your development environment
Deploy an application on Docker
Use Docker Compose
You need:
Basic command line knowledge
To bring your own laptop
We provide:
Our full attention since our workshops have very limited seating
Food, coffee, tea, beer
Access to our private Slack Channel
Lots and lots of bad humor (guaranteed)
Instructors:
Thanos Korakas (https://www.linkedin.com/in/tkorakas)
Thanos Nokas (https://www.linkedin.com/in/thanosnokas)
Extra details
The workshop will be in Greek
You know why the food will be amazing in this workshop?
That's why,