Description
There's still time to do your freelance taxes right! I'll walk you through how I prepare all the materials to file my income taxes as a freelancer. There will be worksheets so you'll have an action plan of what to do when the class ends. We'll cover:
Making records of your income
Income Tax Steps
Tax Deductions
Tax Extensions
Payment Plans
Take a deep breath! It'll be OK!
Note that I'm a freelance artist, not a "tax professional," but I've figured out a bunch of tax things from a freelancer's point of view that I want to share with you in an easy-to-understand way. The goal of this class is to help you get organized to easily give accurate info about your real income and deductions to a tax preparer. No, they don't waive a magic wand and get all your stuff together - YOU need to do a lot of the legwork whether you seek professional help or not.
Just to clarify, this is NOT a class where I do your taxes FOR you, NOR is it a class where I teach you to do other people's taxes. It IS a class where I help you understand best practices for documenting your income, go step-by-step through organizing freelance income and deductions, and making a sustainable plan so you can be more on top of things for taxes next year. You can apply the info to whether you go to a tax prep person or try to do it yourself, although we don't go over all the specific tax forms. Please let me know if you have any questions!
Also, if you've seen other versions of my Business Basics for Freelancers class, know that this particular class is TAX-FOCUSED and different from ones I taught previously.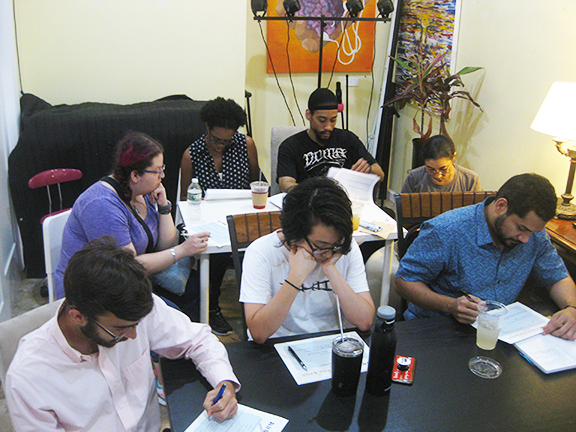 I'm very excited to hold this class at Caffeine Underground! If you find yourself getting nervous during the tax portion of the class (which is the bulk of this particular class), get some relaxing herbal tea or their special "trippin' tea!" They have food too & feel free to eat during class! There are also a few short breaks. Venue is accessible for disabled persons.
Get your Early Bird ticket online for $50 and guarantee your spot. Walk-ins are $55.
Hope to see you there and I'm looking forward to helping you do your freelance taxes easier!