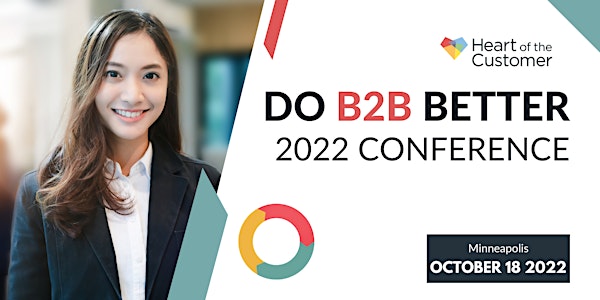 Do B2B Better 2022 Conference: Drive Game-Changing Customer Experience
Do B2B Better 2022 is the emerging event for B2B & B2B2C CX leaders. Drive Business Growth Through Game-Changing Customer Experience.
When and where
Location
Nicollet Island Pavilion 40 Power Street Minneapolis, MN 55401
Refund Policy
Contact the organizer to request a refund.
Eventbrite's fee is nonrefundable.
About this event
There is more opportunity than ever to drive business growth with B2B customer experience.
Customer Experience (CX) is undergoing a serious evolution. One which will force business leaders to discover new paths to measure CX success. Because of this, we've created a space for leaders to share the latest in CX strategy. At Do B2B Better 2022, you'll have the opportunity to learn from proven CX leaders on how to…
measure CX business impact.
improve your strategy using the CX Loyalty Flywheel.
become the CX leader in your industry.
build experience-driven revenue for your organization.

Conference Agenda
Learn from these CX Change Makers that are driving business results in their organization.
Sam Wegman – VP Customer Experience - Univar Solutions
Going Beyond Surveys - Using Behavioral Data to Measure the Customer Experience | Customers give you feedback well beyond what they record in a survey. Sam Wegman of Univar Solutions will show how they evaluate customer sentiment to performance (CX360) and leverage "synthetic NPS" that incorporates Customer Ecosystem Data to understand the voice of all their customers - even those who don't click the survey link.
Roxie Strohmenger – VP Customer Experience Strategy – UKG
How to Become an Indispensable Advisor to Your Business Partners | Customer experience at its best is an advisor to the rest of the business, helping them understand how an improved customer experience helps them achieve their goals, and assisting them in actions they can take to improve both customer and business outcomes.
Laurie Englert - VP Customer Experience – Legrand | AV
Creating a Culture Around Customers | Many companies speak to the importance of customers, and then use internal processes to create products and experiences. Learn how Legrand built a culture of engaging directly with customers to understand their needs and to build programs that customers want to engage in.
Riccardo Porta - Global CX Director – Dow
Driving - and Taking Credit for - Business Success through Customer Experience | A game-changing customer experience creates organic growth. But most programs can't show that they are driving this growth, and thus don't get credit for their outcomes. Dow's CX leader Riccardo Porta will share Dow's critical outcomes from customer experience - and how he and his team show these linkages
Nancy Flowers, CCXP – Vice President of Insights & Loyalty – Hagerty
Designing and Measuring Your Experience through an Emotional North Star | Loyalty is an emotional decision, but few CX programs deliberately measure emotions and design experiences around an Emotional North Star. Hagerty's VP of Loyalty Nancy Flowers will share how Hagerty built their B2B2C program around emotions, creating deliberate experiences to create happiness in consumers and a sense of feeling valued in their agents.
Aimee Lucas - Director CX Center of Excellence - Qualtrics
Applying Theory to Reality - Driving Customer-Focused Change at a CX-focused Company | Even with the best of tools at your disposal, change management is an indispensable tool for moving a culture from product to customer-focused. Learn how Aimee is applying change management within Qualtrics to ensure customer feedback drives action at multiple levels.
Jim Tincher, CCXP – CEO and Founder – Heart of the Customer
The Heart of a CX Change Maker | Jim lays out the findings from two years of research into what separates Change Makers - those who can show they can create strong business outcomes - from the average CX leader.
Panel with Speakers: Q&A Discussion
Networking Happy Hour
About Do B2B Better 2022
Do B2B Better 2022 is the emerging event for B2B & B2B2C customer experience leaders. Based on Jim Tincher's recently released book, Do B2B Better, the speakers are from leading CX organizations and will share their proven practices on the stage.
Attendees of the event are interested in building a results-driven CX practice. The event is structured to appeal to the international B2B and B2B2C business communities, although B2C leaders will be able to apply the learnings. Do B2B Better was written and the conference exists to provide proven a CX strategy and methods for supporting organization-level strategic initiatives while improving business KPIs.
Every element of this annual conference is designed to help professional CX Leader make an impact in their business, while energizing and inspiring them to continue improving their organization and their customer's experiences.