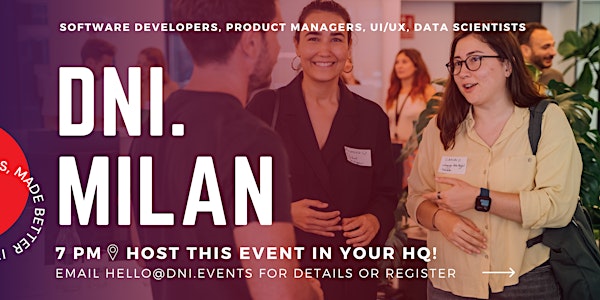 DNI.Milan Team Ticket (Devs, PMs, UI/UX, Data)
Put on your lucky socks and join us for an exciting evening of recruiting and networking. #dnimilan
Date and time
Thursday, July 13 · 7 - 9pm CEST
Location
Host this event in your HQ! hello@dni.events 10000 Milan Italy
Refund Policy
Contact the organizer to request a refund.
Eventbrite's fee is nonrefundable.
About this event
We are thrilled to extend an invitation to you and your company for our event, which offers the chance to meet diverse mid-career software engineers, data scientists, technical PMs, and UI/UX designers.
We're making sure to spread the word about our event far and wide, with a special focus on reaching out to women and underrepresented groups in tech. In fact, we've dedicated 50% of our outreach efforts to this cause.
There will be short keynotes, speed interviews or open networking, and lots of energy! Hiring teams will discuss their companies, present job openings, and network with seasoned job seekers, providing you with the ideal opportunity to discover your next exceptional hire. Attendees will have the opportunity to rate presentations delivered by the hiring teams, and we promise there won't be any Simon Cowell-style judges to break anyone's spirit. Plus, we'll send you a list of job seekers in advance, so you can plan your strategy accordingly.
Who's in: established software engineers, data scientists, PMs, and UI/UX designers
100+ candidates on the event list, a 55-65% attendance rate on average
6+ years of experience in a relevant field on average
Gender equity: 50% of our outreach is reserved for women and underrepresented groups in tech
Who could gain from participating in this event?
Your dev, product, data, UI/UX teams, talent acquisition leaders, and CTO will thank you for extending the invite!
No need to sweat over preparing for this event!
We understand that you may have attended events in the past that demanded extensive preparation but fell short on value. But, our event is unique - it only takes an hour to review the talent list, connect with candidates, and prepare a 5-minute impromptu keynote speech without any slides.
The previous teams came from:
Frequently asked questions
What is the format of this event?
Tickets, Commissions and Fees
How do we source technical talent?
Do you organize private events?
About the organizer
We organize niche and private recruiting experiences for governments, non-profits, and private companies. # DEI #roadto5050 www.dni.events