RUNNING ON EMPTY? GET A GOAL REBOOT AT THE BREAKFAST CLUB!
About this event
April marks the start of the second quarter of the year. It is a good time to do a mental check-in and hold yourself accountable for grabbing your goals. Whether they are your personal or professional goals, are you making progress?
Gain persistence to close the distance in your goal plan. Join us at 7:00 am ET on April 23 for a chance to talk through your goals with a new perspective. Have coffee and conversation with supportive DLE community members from diverse organizations and positions.
Get unstuck or celebrate an accomplishment. This interactive session responds to feedback from the recent DLE Impact Survey, requesting more programming on setting goals and staying accountable.
Treat yourself to a morning serving of motivation or provide an influential perspective to someone who could use the help to move forward.
Are you satisfied with your goal accomplishing progress? Your response to our new 10-Second Poll will fuel the conversation at this upcoming Breakfast Club. Take the poll here and see the results first-hand on April 23.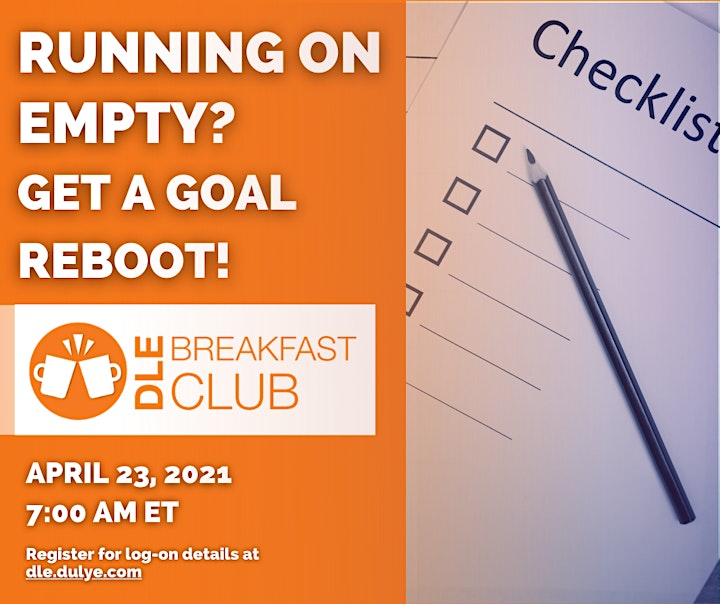 Organizer of DLE Breakfast Club: Running on Empty? Get a Goal Reboot!
ABOUT THE DULYE LEADERSHIP EXPERIENCE
Since 2008, the Dulye Leadership Experience (DLE) has invested in hundreds of young professionals nationwide to enthusiastically and confidently contribute to the success of their company, community and career.
Through the sustained sponsorship of Dulye & Co., the management consultancy owned by DLE founder Linda Dulye, an inclusive, innovative, informative curriculum has been developed to inspire rising leaders' career and life success. Training in critical skills and networking is offered at no cost to DLE Community Members, whose diverse representation by industry, geography, vocation and expertise is a distinctive dynamic of the organization.
Today, the DLE has responded to the isolating impact of the COVID-19 pandemic with its largest offerings of skills workshops, networking exchanges, instructional videos and career coaching that connect curious, motivated young professionals to each other and their personal developmental needs.