DIY Workshop at WeFF: Build Your Own Inkle Loom with Matt Postrel
Combine woodworking and weaving by making your own inkle loom for weaving bands. Inkle loom weaving demo and instruction to follow class.
About this Event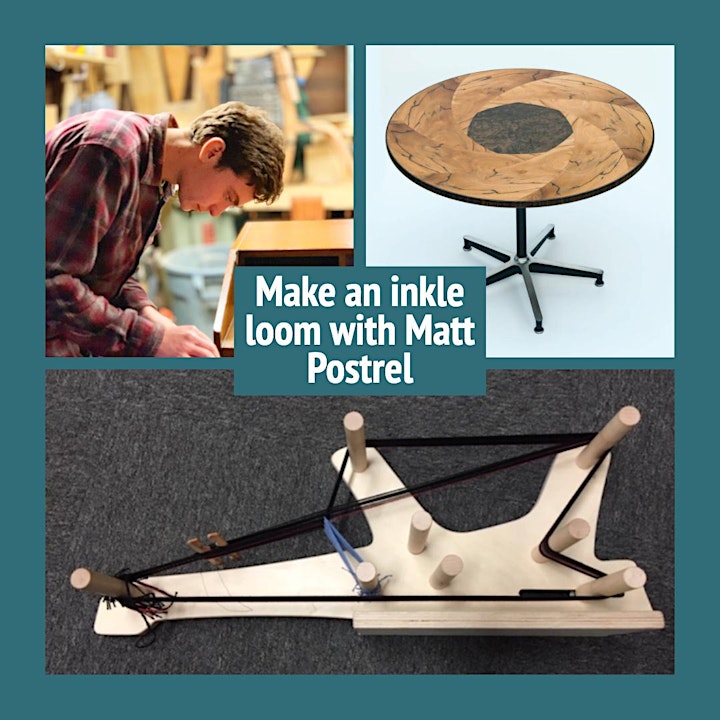 Build a tabletop inkle loom with South Pasadena woodworker Matt Postrel. In this session, you will learn how to construct and assemble an inkle loom using traditional woodworking techniques. We will discuss wood technology, grain selection, and grain orientation, as well as exploring different methods of work for a successful outcome. 
An inkle loom is used to make sturdy narrow bands.  The bands have various uses including belts, trims, straps, and more. You can also join several strips together to make clothing, bags, or other accessories. SCHG member and inkle loom weaver Chantal Hoareau will be on hand to answer weaving-related questions and will hold an inkle loom demo in the afternoon to help anyone interested get started.
Supplies: Materials fee $40, payable to the teacher. Materials include pre-shaped baltic birch loom body, pre-shaped baltic birch loom foot, hard maple dowels (8 qty), hardwood wedges, 1 5/8" screws (3 qty), tension knob, string heddles, inkle loom shuttle.
Tools supplied for use in class: Hammer, drill/driver, 100, 150, and 220 grit sand paper, wood glue, crosscut hand saw
About the Teacher: Matt Postrel is a graduate of the Cerritos College Woodworking Program. A resident of South Pasadena, he discovered his passion for woodworking in middle school and has gone on to now work full time alongside artists, as well as taking on his own commissions for all manner of wood projects, from fine furniture making to built-in cabinetry. 
Price: $50 in advance (includes WeFF admission), $60 at the door
Minimum class size: 3
Maximum class size: 8
Sponsored by Southern California Handweavers' Guild
Check out the rest of our Weaving and Fiber Festival (WeFF) activities. Free admission with class registration.
FREE PARKING.