Location
Urban Wood Rescue
6045 Midway Street
Sacramento, CA 95828
Refund policy
Contact the organizer to request a refund.
Eventbrite's fee is nonrefundable.
Learn to build a beautiful piece of furniture you can feel proud of!
About this event
Experience the magic and fun of table making
There's nothing quite like the feeling of making something with your own hands and getting the satisfaction of seeing a project through - from beginning to end. Come spend a morning with local Sacramento maker, Bethany Hannah, and go home with new knowledge, skills, great memories, and a beautiful piece of furniture you can feel proud of! During the workshop, you'll learn some basic woodworking and power tool skills, sanding and finishing techniques, and more. Beginners are welcome and encouraged.
Please note: workshop prices DO NOT include the price of the wood. Attendees will get to select their own live edge wood slabs; prices generally range from $50-$125 depending on wood species and size. Selections will be purchased at the beginning of class.
Table legs and all other workshop tools and materials are provided.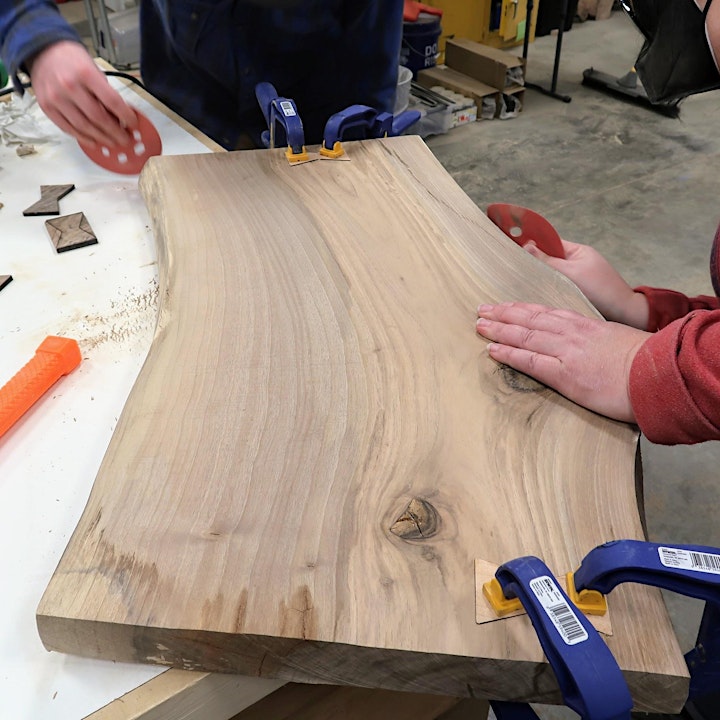 Who should attend?
Anyone - novices and youth are welcome! This event is open to the general public, you do not need any prior experience to join us and on-site training will be provided.
The event will take place outdoors, and facial coverings and social distancing will be required.
Requirements
Register in advance: Space is limited. Cost includes instructor fee plus materials fee, but does not include the cost of the wood.
Youth participants: Youth under 18 must be accompanied by an adult for the duration of the event (one adult may attend at no extra charge). Youth under 18 years of age must have their parent or legal guardian sign their consent form during registration.
Waiver: All participants must pre-register and sign a completed waiver form during registration and BEFORE participating in the event.
COVID safety: We encourage all attendees to be fully vaccinated, but we do not require proof of vaccination. Attendees must wear face masks at all times and adhere to six-foot social distancing as much as possible during the event. Anyone who has tested positive for COVID should not attend, unless more than 5 days have passed and they are asymptomatic and have tested negative on day 6 or later - please provide advance notice of cancellation when possible.
Clothes and shoes: Closed toed shoes are required. Dress comfortably and appropriately for the weather, bring work gloves and plan to get a little dirty. Some personal protective equipment will be provided, but you are welcome to bring your own.
Supplies: Table legs and all other workshop tools and materials are provided.
Arrival: Arrive on time. Check-in begins at 9:00 AM.
Food and drink: Bring a refillable water bottle and your snack; water will be available on site if needed. No food will be provided.
Skills: No specific skills or tools required. Each event starts with a tool safety and planting demonstration.
Getting there
Urban Wood Rescue is located at Depot Park. Enter through the security gate on Florin-Perkins Road. Let the security guard know you are coming to Urban Wood Rescue. Parking is available on-site.
About this project
At the Sacramento Tree Foundation, we steward our urban forest from seed to slab. We are proud to be part of a movement writing a new chapter in the lives of urban trees. Through our Urban Wood Rescue program, we save fallen trees from the landfill and mill their wood into usable lumber. By keeping this wood intact, all the carbon the tree stored during its lifetime stays locked down in the wood. If logs are instead sent to the landfill or chipped into mulch, that carbon is released back into the atmosphere.
All wood and workshop purchases support the stewardship and sustainability efforts of the Sacramento Tree Foundation.
This program is supported by CAL FIRE and California Climate Investments.
If you have questions about this initiative or would like to get more deeply involved, please contact urbanwoodrescue@sactree.org or (916) 974-4336.
Make a gift to SacTree
Donate to SacTree to support our work growing thriving communities through stewardship of our urban forest! SacTree relies on the support of friends, neighbors, and volunteers like you to make our work possible.
About the instructor
Bethany Hannah is a location Sacramento maker and urban wood enthusiast. To learn more about her work, please visit her Instagram.