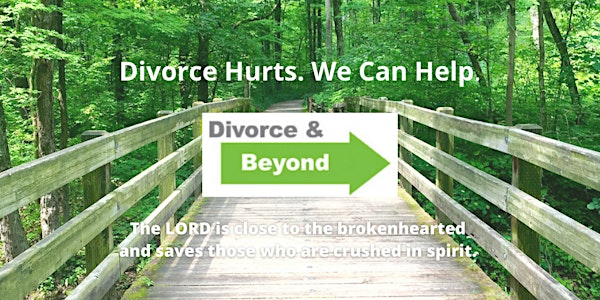 Divorce & Beyond: One Day Seminar (Jan 2023)
Divorce Hurts, We Can Help
When and where
Location
Vineyard Cincinnati Church - Student Union Building 11345 Century Circle West Springdale, OH 45246
About this event
If you are separated from your spouse, going through a divorce, or are divorced, we encourage you to attend this seminar. We understand the feelings of rejection, anger, fear, isolation, betrayal, guilt and helplessness that can result from divorce. You may feel like you are on an emotional roller coaster - one day you feel fine, the next day you feel hopeless. Emotions have a way of fooling us into believing that things will never change or get better. During this time it is critical to gain a healthy perspective by understanding the root of your emotions, which will enable you to take the necessary steps to move forward with your life.
The Divorce & Beyond seminar addresses these issues in a safe, supportive environment. People are seated at tables (men and women are at separate tables for the main seminar) and given opportunities to share, facilitated by a trained leader. We've found that these initial discussions are best conducted in gender specific settings. However, the workshops during the seminar and the optional support groups that meet after the seminar are co-ed. Each support group has a male and a female facilitator, enabling us to learn from one another.
Yes, divorce hurts, but we can help.
Seminar Topics
Layers of Divorce
Recovery Cycle
Loneliness and Forgiveness
Transition and Change
Developing a New Lifestyle
Features
Multi-media
Continental breakfast and lunch
Informal small group discussions
Workshops that cover key issues in the divorce process.
All seminar team members and volunteers have experienced divorce
Our Values
Safe, warm and welcoming
Loving and caring – Non-judgmental
Sense of community – Wounded healers are leaders/volunteers
Respectful of differing view points
Sensitive to individuals in various stages of crisis and loss
For Your Children - KidKare For Children Ages 8 – 12
Your children are dealing with their own emotions about divorce and it is important for them to understand that they are not to blame. While you are attending the seminar, your children (ages 8-12) can participate in activities and discussions that deal with their feelings, changes in the family structure and self-esteem. The KidKare program is coordinated by a team of qualified volunteers and is offered at the same time as the adult seminar.
Features
Large variety of meaningful activities, some serious and some fun!
Time to process emotions
Discovery of hope & love during a tough time
Cost – Our registration fees do not actually cover the cost of the seminar, but thanks to generous support from our partner churches and individual donors, we are able keep our registration fees low. We are very committed to helping those experiencing divorce, whether fees are in the budget or not. We never want someone to be unable to attend the seminar simply because their divorce has put them in a tough spot financially. Our registration includes a Scholarship option which allows us to provide scholarships when needed. Please don't hesitate to contact us at info@divorceandbeyond.org if you have a scholarship need or have any questions.
Visit Us – Please visit our website, divorceandbeyond.org, for more information about the seminar, speakers, and follow-up recovery groups beginning after the seminar.
Contact - info@divorceandbeyond.org
Please be assured that we will utilize current COVID-19 protocols. We will follow the guidelines of the state and venue.