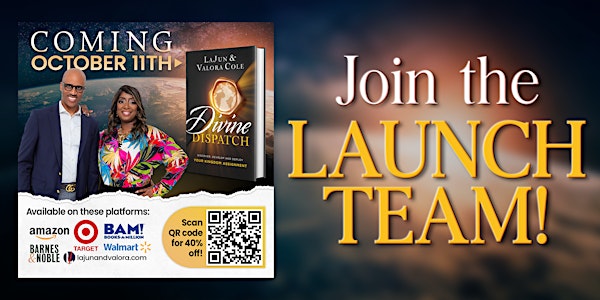 Divine Dispatch Book Launch - Join the Team
Divine Dispatch Book Launch: Coming October 11th - Join the Launch Team!
About this event
Stay tuned for the book signing and launch event! Here are some ways you can help us get the word out about Divine Dispatch:
Read the book
Take a photo with the book and post it on your social media outlets.
Download the flyer from www.divinedispatch.world
Download the Divine Dispatch video and share it
Remember not to place the link in the post but in the comments section
Post quotes about the book from parts of it that really hit home with you personally
Order copies of it for friends, coworkers, and neighbors
Do a book club with it
Teach a bible study utilizing it
Do a TikTok, Facebook, or Instagram Reel (be specific)
Talk about it in Clubhouse and Invite us to your Clubhouse room to share
Leave a review on Amazon (Don't forget the stars. We would greatly appreciate 5 stars please)
Invite us to your city to conduct a Sent One Camp (a two-day training and activation)
We will have a Contest for the best TikTok, Facebook and Instagram reel. The person who has the most people who purchase the book by October 25, 2022 as well as the most viewed/liked video will receive a choice of a $500 Visa Gift Card or a 5-day cruise.
The book also comes in the forms of audio, e-book and hardback for those who may not want to have the paperback version. Each can be ordered anywhere books are sold.
Thank you again for helping us to spread the word and activate the body of Christ to discover, develop, and deploy their kingdom assignment and be the divine dispatch the Father created them to be.