CREA at Cornell shares programs for climate tech founders, followed by Chloe Capital funding opportunities for seed-stage startups.
About this event
About Diversity in ClimateTech:
Cornell University, Chloe Capital, and NYSERDA launched Diversity in ClimateTech, a new program to recruit, educate, inspire, and support capitalization in Black, Indigenous, People of Color (BIPOC) and women founders developing startups with clean tech innovations.
Women and BIPOC entrepreneurs typically face more acute challenges scaling startups including limited access to, and attention from, investors. Additionally, clean tech innovation usually experiences slower adoption rates among customers and therefore slower revenue growth.
This program will help participants in underrepresented communities start climate technology companies and build their businesses.
Initiative goals:

Who Should Attend:
Whether you're an aspiring climate tech innovator, a startup seeking funding, an investor in the climate tech space, or an industry expert looking to mentor founders, we welcome you to attend this information session. You'll learn all about the overall Diversity In ClimateTech program, CREA's opportunities for founders and mentors, and Chloe Capital's investment criteria and application process.
Date: Tuesday, June 15, 2021
Time: 11 a.m. (ET) / 10 a.m. (CT) / 8 a.m. (PT)
Location: Webinar
Register above!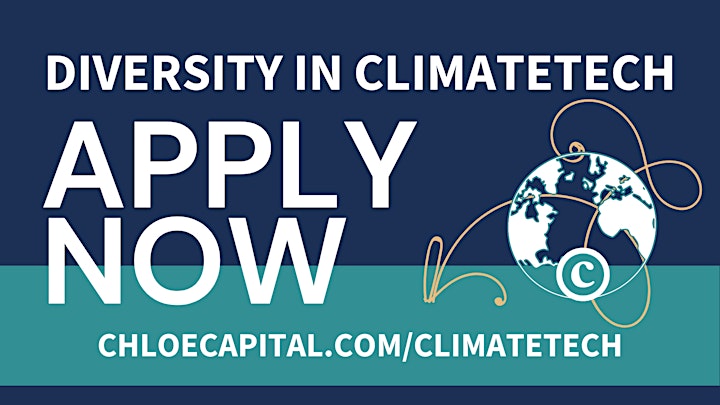 What You'll Learn:
Part 1: Cornell's team at the Center for Regional Economic Advancement (CREA) will identify and recruit diverse innovators with solutions in climate technology and provide them training on early-stage entrepreneurship skills including customer discovery, business idea validation, and IP generation. They will also connect these entrepreneurs to mentors and potential customers and partners in New York's growing clean energy ecosystem in the Southern Tier. Cornell and its Center for Regional Economic Advancement already support numerous programs that empower diverse founders including W.E. Cornell (Women Entrepreneurs) and BET (Black Entrepreneurs in Training).
Register above to learn which CREA program best fits your startup.
Part II: Chloe Capital, alongside our global network of co-investors, will make investments in women-led technology companies combating climate change. If you're a seed-stage, women-led technology company with a climate tech solution raising capital, this info session is for you. In addition to our investment(s), on average Chloe Capital program participants raise $1.5 Million.
Register above to learn more about the program and how to apply for an investment from Chloe Capital.
Powered by Cornell University and Chloe Capital, supported by NYSERDA
Organizer of Diversity In ClimateTech Info Session II
Chloe Capital is a Movement-driven venture capital firm that invests in women-led technology companies with diverse leadership teams. In addition to investing with a gender and diversity lens, Chloe Capital partners with foundations, institutions and corporations to host programs that help catalyze fundraising efforts for female founders. This collaborative approach to early stage investing is what makes the firm so unique. More than 15,000 people around the world have already joined Chloe Capital's Movement to #InvestInWomen. ChloeCapital.com