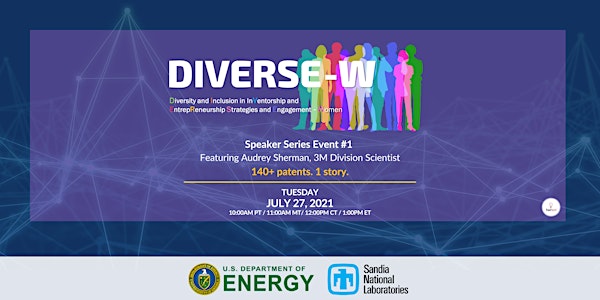 DIVERSE-W Speaker Series - Fireside Chat with Audrey Sherman
Join us for a Fireside Chat with 3M Division Scientist Audrey Sherman, an innovator and leader with 140+ patents.
About this event
Register now for the DIVERSE-W Speaker Series webinar with a renowned patent leader!
The DIVERSE-W Pact Project, led by Sandia National Laboratories and funded by DOE Office of Technology Transitions, is hosting a 1-hour virtual Fireside Chat and Q&A with 3M Division Scientist Audrey Sherman on Tuesday, July 27th at 10am PT / 11am MT / 12pm CT / 1pm ET.
1 Story, 150+ Patents – Sherman is well known for her accomplishments as an inventor and will share her journey to becoming the first woman at 3M to reach the 100 patent milestone.
This is the first of four parts in the DIVERSE-W Speaker Series designed to share the stories of women leaders in patenting, STEM, innovation, and entrepreneurship. All are welcome to attend.
Tickets are FREE and the event is for internal DOE staff only. You will receive a Zoom Webinar link via email closer to the event date.