DisruptHR Lansing is a night of short focused talks from professionals who want to share their ideas on how we can move our talent thinking.
About this event
Join us for DisruptHR Lansing on October 21, 2021 at 6pm!
After a long year of social-distancing, 3 rescheduled dates, and tons of waiting, we couldn't be happier to announce we are moving forward with DisruptHR Lansing in-person this October.
DisruptHR is an information exchange designed to energize, inform and empower executives, business leaders and people in the HR field.
Are you tired of the same old approach to Human Resources? Are you ready to start talking about talent in a whole new way? DisruptHR is for you! These events take the brilliance of TED Talks, adds a pinch of energy, and pours in a big scoop of talent for an event that will blow your mind.
DisruptHR is built on the belief that how we've approached people and talent in the past won't always be the best way to approach it in the future. To learn more about the format, style, and intention of DisruptHR events please visit https://disrupthr.co
The Show
Our rockstar speaker line up has been selected. 
Registration begins at 6pm and the speakers will be split into two groups. Each speaker gets 20 Slides x 15 Seconds on each slide = 5 Minutes. That's it!
Presentations can be about anything so long as they pertain to talent. The audience is encouraged to interact - clap, laugh, cry, tweet, text, just play nice.
AGENDA:
6:00-6:45pm Registration, networking, appetizers, and drinks
6:45pm Introductions, Meet the emcees and sponsors
7:00-7:45pm Speaker Group 1
Break
8:00-8:30pm Speaker Group 2
Conclusion followed by afterparty and networking
The Speakers
(topics subject to change due to rescheduling)
April Callis-Birchmeier - "Leading others out of the valley, into successful change"
Brian Town - "Advertising for talent hasn't changed in 50 years"
Greg Modd - "Trenches of HR: Troopers Enlist"
Jen Laidlaw - "Are your company values more than just some words on a mousepad?"
Julia Keider - "Gen Z: Your New Talent Pipeline"
Justin Cane - "Your Company's IEP"
Kat Hoyer - "Holistic Workplace Development - Woo Woo, Woke or Warranted?"
Sara Bennett - "HR: The Magic Eye of Organizations"
Tim Sackett- "The Future of Work: Adulting"
Tina Marie Wohlfield - "Only YOU can prevent HR Fires!"
William Maurer - "You're worse at this than you think; an intro to evidence-based selection"
The Sponsors
DisruptHR Lansing is Proudly Sponsored by:
Main Sponsor: Keyser
Food/Beverage Sponsor:  Ultimate Software
Event Sponsors: Urban Beat, Message Makers, and Providence Consulting
Hosted by: HRU Technical Resources and Tim Sackett
DisruptHR Lansing is very excited to partner with Greater Lansing SHRM!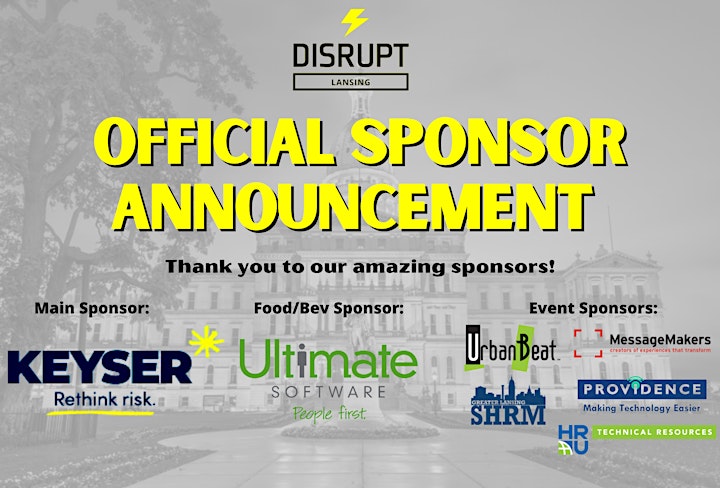 Organizer of DisruptHR Lansing 1.0