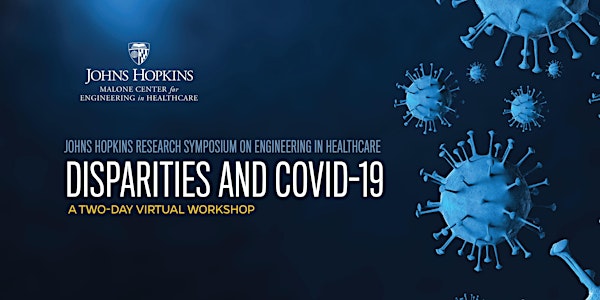 Disparities and COVID-19: Data Science for Social Good
Join us for a two-day virtual symposium on DISPARITIES AND COVID-19: DATA SCIENCE FOR SOCIAL GOOD
About this event
Part 1: Monday, January 11, 8:40 am - 1:00 pm
Part 2: Tuesday, January 19, 8:40 am - 1:00 pm
We will deliver this symposium using Zoom. Registration means you can attend both days (Zoom link will remain the same).
In this symposium, we will engage the broader Johns Hopkins community in a meaningful conversation on various aspects of disparities arising from the COVID-19 pandemic. Join us for an interactive discussion on how data science approaches and methods contribute to better understand, address, and mitigate the disparate impact of COVID-19.
The event will involve data science teams working on various aspects of the COVID-19 disparity problem. Scheduling the event over two days, separated by a week, will give these teams a chance to present their approach during the first day, continue their work over the course of a week, and report their preliminary results during the second day of the event.
The two-day event (Jan. 11 and Jan. 19) will feature four keynotes, short talks by COVID-19 thought leaders, team lightning talks, and a hackathon. Full program available at: https://malonecenter.jhu.edu/symposium-2020
Speakers:
Lisa Cooper, MD, MPH Bloomberg Distinguished Professor of Equity in Health and Healthcare at Johns Hopkins University: "The Role of Research in Advancing Health Equity: Calling for a Bold New Vision"
Christopher Chute, MD, DRPH, MHP, Bloomberg Distinguished Professor of Health Informatics at Johns Hopkins University: " COVID Data Repositories Curated by Hopkins: Resources for Data Science and Disparity Research"
David Putrino, PhD, PT, Assistant Professor in the Department of Rehabilitation Medicine at the Icahn School of Medicine, Mount Sinai: " Post-acute COVID Syndrome: Origins, Lessons Learned, and Early Disparities in Care"
Danielle Ompad, PhD Associate Professor of Epidemiology and Associate Dean for Education at NYU School of Global Public Health: "Vaccinating Difficult to Reach Populations"
Panagis Galiatsatos, MD, MHS, Assistant Professor in the Division of Pulmonary & Critical Care Medicine at Johns Hopkins School of Medicine: "Combating Health Disparities Through Community Engagement: How did we adapt during COVID-19?"
Ilya Shpitser, PhD, John C. Malone Professor of Computer Science at Johns Hopkins University: ""Understanding Mechanisms Behind Covid-19 Disparities"