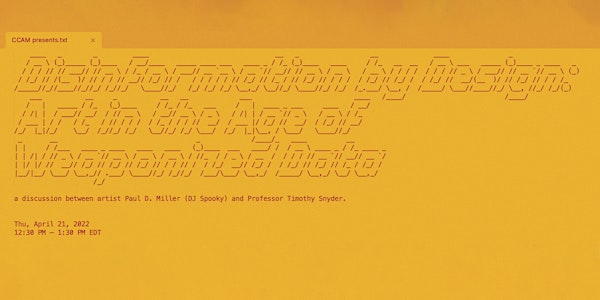 Disinformation by Design: Art in the Age of Weaponized Data [IN PERSON]
Location
Yale Center for Collaborative Arts and Media (CCAM)
149 York Street
Leeds Studio (Room 103)
New Haven, CT 06510
CCAM presents a discussion between artist Paul D. Miller (DJ Spooky) and historian Timothy Snyder
About this event
This free event is in-person and open to the public. It will also be livestreamed on Zoom. There is a separate registration process for each version of the event.
TO ATTEND IN PERSON: Register through this Eventbrite.
All in-person audience members must have an up-to-date COVID-19 vaccination status and be asymptomatic. Proof of vaccination and an ID will be required to enter the venue. Audience members must wear masks at all times.
TO VIEW THE LIVESTREAM: Register separately here.
***
Join Guest Artist Paul D. Miller (DJ Spooky) and Professor Timothy Snyder for a discussion about art, politics, and war.
"You can't imagine how stupid the whole world has grown nowadays." —"Dead Souls" by Nikolai Gogol (1842)
Russia's 2022 invasion of Ukraine has highlighted issues that linger over the global discourse around post-colonialism, the hydrocarbon economy, art, and the weaponization of data. These have unfolded in an era that has fundamentally pivoted from the 20th-century obsession with grand narrative to a radical, new politics of perception fostered by the rapid adoption and innovation of digital technologies.
Both the United States and the Soviet Union used art as ammunition throughout the 20th century — including Duke Ellington's jazz, Jackson Pollack's expressionist works that were sponsored by the CIA, Soviet Realist paintings, and the use of highly edited photographs to erase Stalin's political opponents. In this discussion, Miller and Professor Snyder will focus on the role that technology and propaganda plays in the context of the current invasion, from social media to deepfakes, from ransomware to Fox News.
***
Paul D. Miller, aka DJ Spooky, is a composer, multimedia artist, and writer whose work immerses audiences in a blend of genres, global culture, and environmental and social issues. Miller has collaborated with an array of recording artists, including Metallica, Chuck D, Steve Reich, and Yoko Ono. His 2018 album, DJ Spooky Presents: Phantom Dancehall, debuted at #3 on Billboard Reggae. His large-scale, multimedia performance pieces include "Rebirth of a Nation," Terra Nova: Sinfonia Antarctica, commissioned by the Brooklyn Academy of Music, and Seoul Counterpoint, written during his 2014 residency at Seoul Institute of the Arts. His multimedia project Sonic Web premiered at San Francisco's Internet Archive in 2019. He was the inaugural artist-in-residency at the Metropolitan Museum of Art's The Met Reframed, 2012-2013.
In 2014, he was named National Geographic Emerging Explorer. He produced Pioneers of African American Cinema, a collection of the earliest films made by African American directors, released in 2015. Miller's artwork has appeared in the Whitney Biennial, The Venice Biennial for Architecture, the Miami/Art Basel fair, and many other museums and galleries. His books include the award-winning Rhythm Science, published by MIT Press in 2004; Sound Unbound, an anthology about digital music and media; The Book of Ice, a visual and acoustic portrait of the Antarctic, and; The Imaginary App, on how apps changed the world. His writing has been published by The Village Voice, The Source, and Artforum, and he was the first founding Executive Editor of Origin Magazine.
Timothy Snyder is the Richard C. Levin Professor of History and Global Affairs at Yale University and a permanent fellow at the Institute for Human Sciences in Vienna.  His books include Marxism, and Modern Central Europe (1998); The Reconstruction of Nations (2003); Sketches from a Secret War (2005); The Red Prince: The Secret Lives of a Habsburg Archduke (2008); Bloodlands: Europe Between Hitler and Stalin (2010); Thinking the Twentieth Century (with Tony Judt, 2012); Black Earth: The Holocaust as History and Warning (2015); On Tyranny: Twenty Lessons from the Twentieth Century (2017); Road to Unfreedom: Russia, Europe, America (2018); and Our Malady: Lessons on Liberty from a Hospital Diary (2020).
Snyder's work has appeared in forty languages and has received a number of prizes. He has appeared in documentaries, on network television, and in major films. His books have inspired poster campaigns and exhibitions, films, sculpture, a punk rock song, a rap song, a play, and an opera. His words are quoted in political demonstrations around the world. He is currently finishing a philosophical book about freedom.
***
Image credit (above): Alvin Ashiatey
Pictured (below): Paul Miller, photo credit: Janelle Pietrzak
Pictured (below): Timothy Snyder, photo credit: