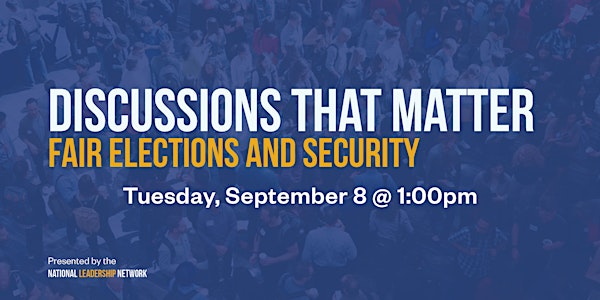 Discussions That Matter: Fair Elections and Security (Part 2 of 2)
Alumni of Leadership Programs across the country discuss challenging topics that impact our communities.
By National Leadership Network
Date and time
Tuesday, September 8, 2020 · 10 - 11:30am PDT
About this event
Registration for this 90-minute session closes on Tuesday 9/8 at 11:00am EDT!
This event will take place on Zoom. The meeting link will be sent out the morning of the event.
Fair Elections & Security (Part II of II)
Part one of this two-part series covered how elections work, as well as past and present election administration. The panel discussion from Part I can be viewed here.
Part two will explore the history of US elections in crisis moments, cyber-security as it relates to elections, and the potential influence of outside governments on US elections.
Panel moderated by Mike Ritz, Co-Founder, National Leadership Network
Timothy H. Edgar is a former national security and intelligence official, cybersecurity expert, privacy lawyer and civil liberties activist. In 2006, Edgar became the intelligence community's first deputy for civil liberties, advising the director of national intelligence during the George W. Bush administration. In 2009, after President Barack Obama announced the creation of a new National Security Council position "specifically dedicated to safeguarding the privacy and civil liberties of the American people," Edgar moved to the White House, where he advised Obama on privacy issues in cybersecurity policy.
Kathleen Hale, PhD, a graduate of Leadership Stark County in 1992, Kathleen is a professor of Political Science at Auburn University where she directs its Election Administration Initiative and Graduate Program in Election Administration. She teaches courses in election administration, qualitative methods, and intergovernmental relations, and her research examines how to improve capacity of government and nonprofit organizations to address public problems. Dr. Hale also directs Auburn's partnership with the Election Center (National Association of Election Officials) to professionalize the public administration of elections through its national certification program.
Anna Lysyanskaya is a researcher in cryptography, the study of protecting communication and computation against malicious users. The fundamental problems in this area are secure communication, authentication of data, pseudorandomness, and secure multi-party computation. She is famous for her work on anonymous credentials, which are algorithms that allow users to prove that they are authorized without disclosing any additional information.
Registration closes on Tuesday 9/8 at 11:00am EDT!
Catch Up On Fair Elections and Security (Part I of II)
What is the "Discussions That Matter" series?
Discussions That Matter provides an opportunity for graduates of Leadership Programs to engage with their peers from across the nation. A panel of seasoned professionals in the corporate, nonprofit, and government sectors will introduce and discuss relevant issues impacting our country. Following the panel attendees are placed in small groups to engage in meaningful discussions with their fellow leaders.
About the organizer
The National Leadership Network is a place for alumni of Community Leadership Programs (CLPs) from across the country to connect, share ideas, and build relationships beyond state borders. Participants in NLN events recognize the value of cross-sector, cross-industry collaboration and sharing best practices to find new solutions and innovations, locally and nationally.