Description
Author and Space Historian Eric Rice Toldi discusses the history of the United Nations Committee on the Peaceful Uses of Outer Space, its current work and the impact it is likely to have on future exploration, including both the privatization and militarization of space. Cocktails will be served and a Q&A will follow.
---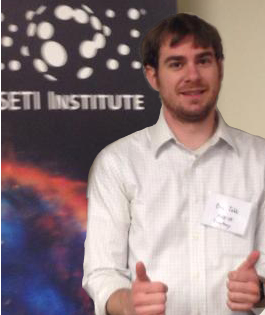 Eric Rice Toldi received his Bachelor of Arts in the History of Science at Marlboro College and has published with The Smithsonian Air and Space Museum and The Proceedings of The Institute of Electrical and Electronics Engineers. He is the author of The Bion Story: A U.S. Status Report, the first book about the Soviet and American space biology flight program, Acceleration, an historical account of the space race within the Cold War, as well as the soon-to-be published story of the wives of German rocket scientists relocated to the U.S. after World War II. He has presented at Nerd Nite, The Walt Disney Family Museum and Real Time & Space. Toldi is the Chair of the American Institute of Aeronautics and Astronautics, Bay Area.
---
The discussion is part the exhibition, Dimensions of Time and Space, by Lauren Marie Taylor, running concurrently with Thoughts on the Cyanometer, by Lindsay Tunkl. The two projects, classified by StoreFrontLab as The Unknown: Inquiries + Assertions, probe metaphysical and cultural pursuits into the meaning of existence.
Dimensions of Time and Space
Dimensions of Time and Space is anexploration by Lauren Marie Taylor of the cultural constructions—historical, scientific, spiritual and metaphysical—that shape our understanding of what we experience as time and space. Through weekly workshops led by artists and thinkers, the public is invited to participate in the investigation. Youth groups are invited to reflect on their own understandings of time and space. Over the month, the StoreFrontLab project space will become a laboratory for presenting these ongoing inquiries.
Thoughts on the Cyanometer
Collectively and individually, humanity has always strived to understand their existence in a world that often eludes them. Through a month long installation and a one night presentation in StoreFrontLab's new annex space, Lindsay Tunkl invites the viewer to explore constructs such as time, metaphysical inquiries, and art's attempts at making sense of our existence in an interrogation of humanity's many attempts to quantify the unquantifiable.