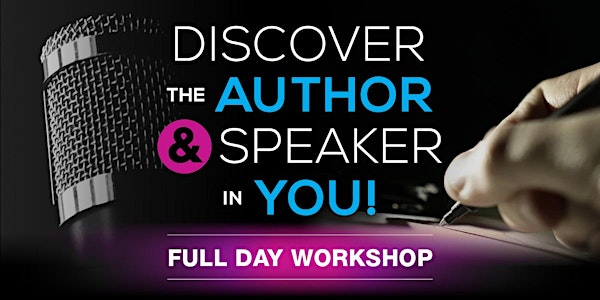 Discover The Author/Speaker In You!
A full-day workshop designed to get you out of your seat and onto your feet! This workshop is designed to get the serious minded going!
When and where
Location
White Eagle Golf Club 3400 Club Drive Naperville, IL 60564
Refund Policy
Contact the organizer to request a refund.
About this event
What's Your Story?
Been procrastinating writing THAT book?
Been procrastinating sharing YOUR life story?
This workshop is the ticket! Here's what you can expect...
Fast-paced, fun and funny
Highly participatory and exercise-centric
Safe and supportive/Extremely practical
Inspired by professionals who are 'currently' living THE DREAM
The day consists of:
Expert critique from Dr. Janice Hooker-Fortman (multiple best selling author) on book writing techniques and story line.
Expert critique from Loren Michaels Harris (professional keynote speaker w/Goalcast video 14M views)
Mini-lessons on managing fear, reading a room, storytelling, how to properly 'brain dump'...and much more.
How to handle Q&A sessions, preparing a presentation and more.
A performance of your talk and/or book presentation to a live audience.
Time for Q&A to get your biggest concerns and questions answered.
Mid-day speed rounds of practice and feedback
Who should attend?
Beginner to intermediate speakers and authors.
All speakers and authors can benefit from critique and are welcome at any level, but most attendees typically have low to medium speaking experience/confidence.
People who enjoy small workshops (45-60 people)
People who thrive within a judgement free zone and respond well to safe and constructive critique.
People who are prepared to move within their purpose via the sharing of their stories of adversities and achievements.
Anyone interested in leaving their legacy for the world to learn and heal from after they have departed for what is next.
Anyone who is ready to trade in "Someday/One day" for TODAY!
Agenda & Details:
You will develop skills to: control your fears, tell better stories, structure and write better talks, stories, and content. You will be able to present your work/content with greater confidence and control.
Prep:
Bring 90 seconds of a presentation, short talk or story you wish to work on. (It's perfectly fine if this is something of an 'outline', sketch, or is still within the concept build-out stage.)
Lunch IS provided (so no getting hangry at our workshop)
Recommended: bring your phone with a video camera (only you will see the recordings)
VIP SPECIAL
General Admission - $87.00
includes:
*Continental Breakfast
*Lunch
*The Discover The Author/Speaker in You Workbook
*Access to the Discover The Author/Speaker In You Private FB Group
VIP SPECIAL $125.00
includes:
Preferred seating
No waiting/front of line registration
*Continental Breakfast
*Lunch
*Discover The Author/Speaker In You Workbook
*Access to the Discover The Author/Speaker In You Private FB Group
*Front and Back Book Cover Designed by Award Winning Visual Artist/Graphic Designer
*Copies of Keynote Speakers' Books and CDs
*Private VIP Concept Corner (receive valuable feedback for your speaker and/or book concept from experts)
*25% gift voucher for DASIY 2.0
*25% gift voucher for personal coaching