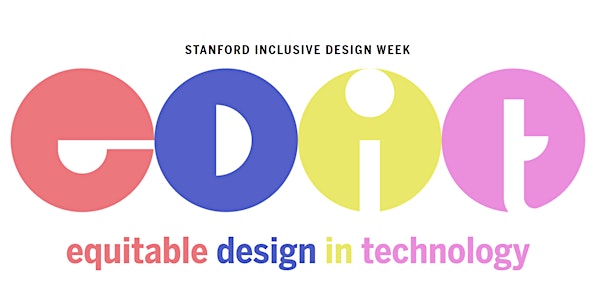 Disability, Design and AI
Join us for a panel discussion on how the design of AI can impact persons with disabilities across many sectors in society.
About this event
The implementation of AI systems for services such as healthcare, housing, employment and mobility is increasing in prevalence in society. However, these systems have the potential to cause significant harm to those with disabilities if not designed properly. Our panel, composed of Sachin Pavithran, Lydia X.Z Brown, and Karen Nakamura will discuss these problems from various perspectives respectively: US policy, community activism, and academic.
Sachin Pavithran is a civil rights advocate passionate about accessibility and has worked on developing assistive technology projects for over twenty years. He currently serves as the Executive Director for the U.S. Access Board. While he worked at Utah State University, he served as the Director of Policy at Center for Persons with Disabilities and the Program Director & Principal Investigator at Utah Assistive Technology Program.
Lydia X. Z. Brown is an advocate, organizer, educator, attorney, strategist, and writer, and their work examines intersectionality especially within the scope of disabled people. They are the Policy Counsel for Disability Rights and Algorithmic Fairness for the Privacy and Data Project at the Center for Democracy and Technology; Director of Policy, Advocacy, and External Affairs for the Autistic Women and Nonbinary Network; and founder of the Fund for Community Reparations for Autistic People of Color's Interdependence, Survival, and Empowerment.
Karen Nakamura is the Robert and Colleen Haas Distinguished Chair of Disability Studies and Professor of Anthropology at Berkeley. Previously she was Associate Professor of Anthropology and East Asian Studies and Chair of LGBT Studies at Yale University. Her research is on disability, sexuality, and other minority social movements in contemporary Japan. In 2006, she published Deaf in Japan: Signing and the Politics of Identity, an ethnography of sign language and deaf social movements. Her second project on psychiatric disabilities and community based recovery resulted in two ethnographic films and a book titled, A Disability of the Soul: An Ethnography of Schizophrenia and Mental Illness in Contemporary Japan (2014). Her books, films, and articles have resulted in numerous prizes including the John Whitney Hall Book Prize, the SVA Short Film Award, and David Plath Media Award. She's currently finishing a project on trans movements as disability in Japan while launching a new project on robotics, augmentation, and prosthetic technology.