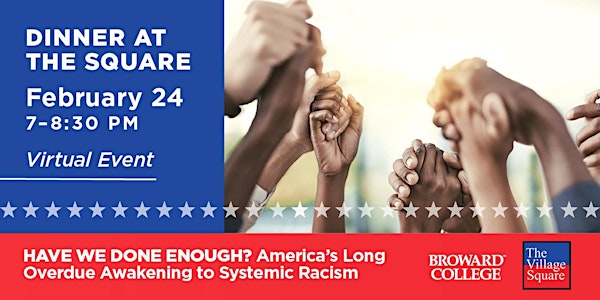 Dinner at the Square: Have We Done Enough?
Have We Done Enough? America's Long Overdue Awakening to Systemic Racism
Refund Policy
Refunds up to 7 days before event
Eventbrite's fee is nonrefundable.
About this event
Log In Information:
Please click the link below to join the webinar:
https://broward-edu.zoom.us/j/97460710358
Or Dial In - US: +1 312 626 6799
Webinar ID: 974 6071 0358
Event Description:
America is overwhelmingly a "white country." Needless to say, black Americans contribute significantly to all aspects of our society. Yet, they still face this "dividing line" from the white majority.
As many Americans unite in a shared mission about the civil rights issues of our time in the aftermath of the tragic killing of black men and women in our country, our community joins others around the nation in the important unfinished work to make the promise of equality a reality by bringing constructive conversation to help illuminate the path to progress and meaningful change.
And while there is a belief in America that with education and hard work, all of us have the opportunity to build a better life than was available to our parents, many black Americans today remain situated in communities with the lowest prospects for upward mobility.
So when those who believe in justice and fairness have had enough, how do we evolve as a country and as a community? How do we push for progress? How do we crate equality for all? Do we ask ourselves, have we done enough?
Panelists:
Keith Koenig, CEO, City Furniture
Germaine Smith-Baugh, Ed.D., President and CEO, Urban League of Broward County
Tiffani Lee, Partner, Holland & Knight LLP
Moderator: 
Doug Lyons, Longtime journalist and former columnist and opinion writer who now runs Doug Lyons Media, LLC, a writing and media consultant company in Florida.
Price:
This event is free and open to the public. If you'd like to make a donation to support the programming of the Village Square you may do so when you register.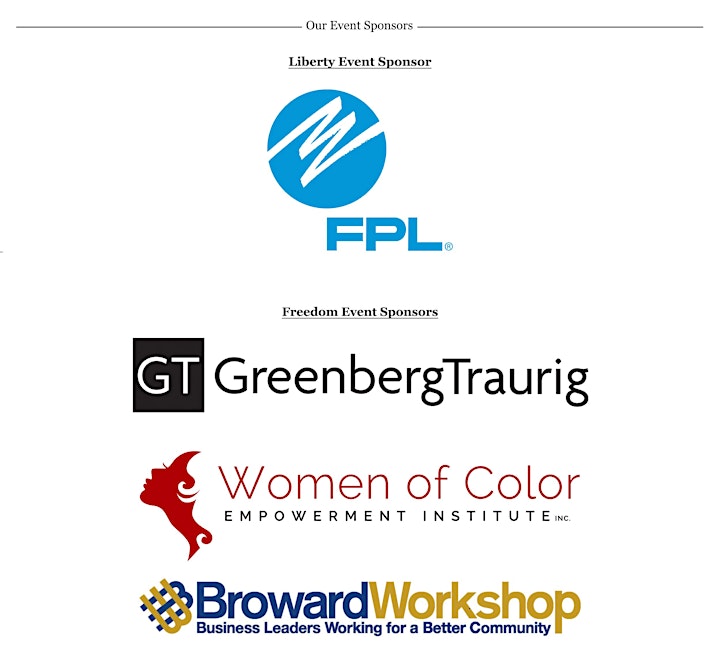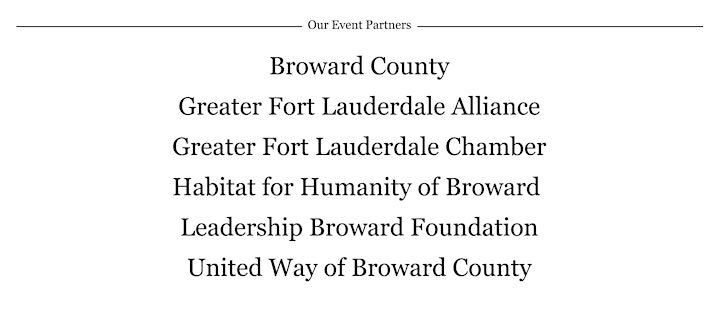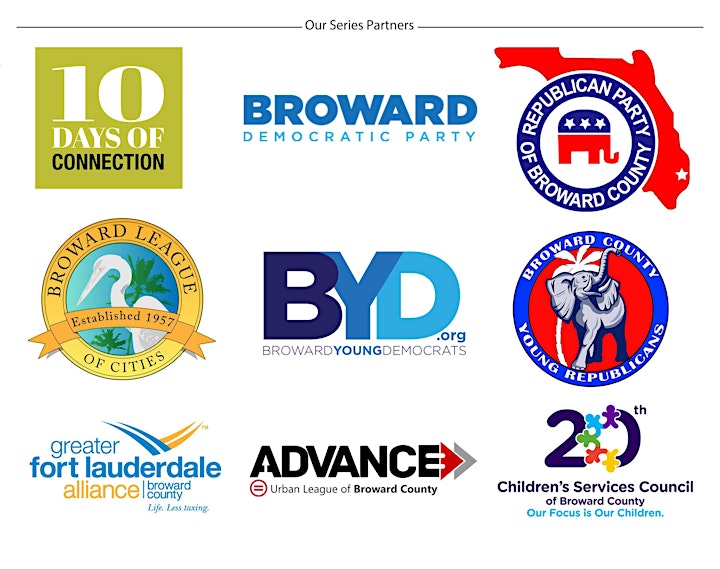 About the Village Square: The Village Square is a non-partisan public educational forum on matters of local, state and national importance. We are dedicated to maintaining factual accuracy in civic and political debate by growing civil dialog on divisive issues and recalling the history and principles at the foundation of our democracy.
Dinner at the Square is the signature Village Square event.  These dinners are intended to be educational in a format that is entertaining.  The debate will be spirited but fact-based and civil. 
Become a Member of the Village Square! As a member, you not only support the mission of the Village Square and help promote the Village Square events, but you will receive an invitation for you and a guest to ALL pre-dinner speaker receptions hosted by The Village Square Advisory Board.  Pre-dinner receptions will be from 6:00 p.m. - 6:45 p.m. followed by the Dinner at the Square from 6:45 p.m. – 8:30 p.m.  You may sign up for a membership when you register this event.  Please note that membership does not include the price of the dinners.