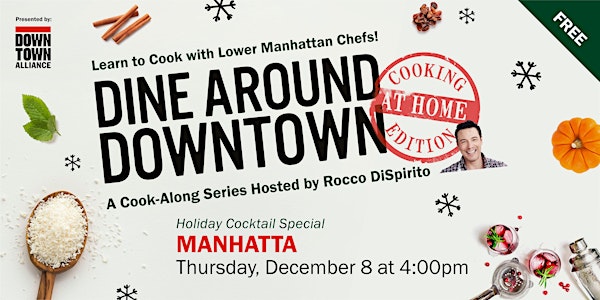 Dine Around Downtown: Cooking at Home Edition with Manhatta
Support local restaurants and food-security charities from your home or office through Dine Around Downtown: Cooking at Home Edition.
About this event
This web series, hosted by James Beard Award-winning chef and New York Times-bestselling author Rocco DiSpirito, features chefs from Lower Manhattan restaurants as they cook up signature recipes and share tips for crafting everything from complex gastronomic delights to staple comfort foods.
Join Rocco for a Holiday Cocktail Special as he chats with Head Bartender Cameron Winkelman of Manhatta. Cameron will show participants how to make two of his unique signature cocktails to celebrate the season – Manhatta's Holiday Nog and Hot Buttered Pumpkin. Registration is required and limited. All registrants will receive digital copies of the recipes prior to the event.
This event is FREE, and we encourage you to support No Kid Hungry, the food-security charity chosen by Manhatta
And if your inner mixologist is calling you, whip up your best version of a featured cocktail and upload a photo of your creation to Instagram with #DineAroundAtHome and tag @DowntownNYC to enter to WIN a 30-minute private virtual cocktail tutorial with Cameron. Be sure to tag @manhatta_nyc!
MEET THE HEAD BARTENDER:
Cameron Winkelman – Cameron Winkelman joined the 2022 reopening team of Manhatta as Head Bartender, overseeing an innovative cocktail program that celebrates New York City. Cameron's introduction to hospitality started in Seattle, where he worked as both bartender and general manager while attending the University of Washington. In 2016, Cameron moved to NYC and stepped behind the bar at Seamstress on the Upper East Side. The following year, he took his skills to The Polynesion, Major Food Group's tiki bar and lounge. Furthering his mission to train with the best bartenders in the world, Cameron joined Nico de Soto and Greg Boehm's award-winning program at Mace, where he developed a greater appreciation for unexpected flavor pairings and eventually assumed the role of head bartender. He subsequently studied a more classic and approachable style at Dante, mastering the art of the Italian cocktail. At Manhatta, Cameron takes a culinary approach to cocktails. Inspired by New York's melting pot, he utilizes flavors from around the world to create a fun, unusual and impressively creative cocktail list.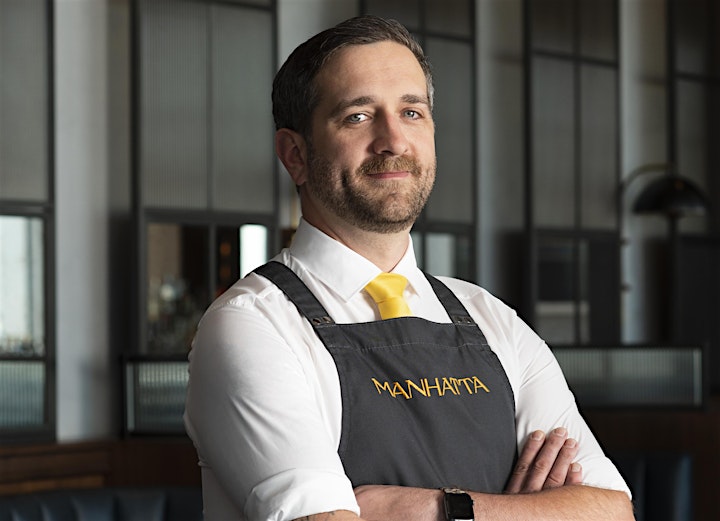 ABOUT THE RESTAURANT:
Manhatta (28 Liberty Street) – Manhatta is a love letter to New York City. Perched sixty floors above the streets, the restaurant is inspired by the people who gravitate here. Helmed by Executive Chef Justin Bogle, its constantly evolving menu marries traditional technique with contemporary creativity — resulting in focused dishes that defy expectation. The restaurant's updated vision channels the confidence and individuality of the city, with a playful spirit and refreshing point of view.