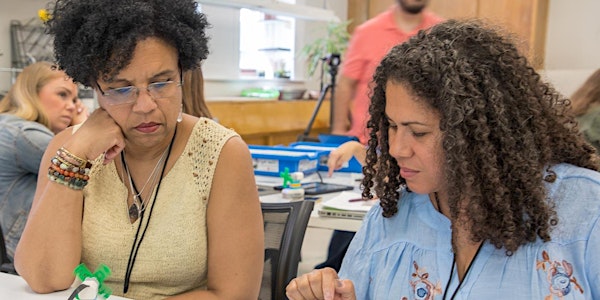 Dimensions of Responsive STEM Series. Part 4 - Pedagogical Biases.
Dimensions of Responsiveness in STEM Teaching - Part 4 of 4, Focus on Pedagogical Biases. March 7, 2021. 9am-12pm EDT.
About this event
This workshop series will be led by teacher-leaders from our Culturally Responsive Teaching in STEM Task Force.
Guiding Principles & Goals
The Dimensions of Responsiveness in STEM workshop will be grounded in the guiding principles developed by our CRT Taskforce, including: Establishing inclusion by considering and building on the diverse needs, assets and contexts of STEM educators and students; Drawing connections with real-world issues to build relevancy, meaning and motivation for students; Encouraging a definition of Responsive and Active Teaching that incorporates hands-on, active learning strategies that consider participants' learning needs and styles, and are grounded in a multicultural and everyday contexts and that build relevancy and motivation for students.
Description
A comprehensive, multi-layered deep dive into CRT, this four-session intensive workshop series will build on STEMteachersNYC CRT Task Force programming and create a space for participants to work together to co-generate a set of contextualized outcomes. The Dimensions of Responsiveness in STEM series will include a "Know Your Biases" module, with a focus on uncovering and characterizing teachers' individual biases. Additional modules include grounding lessons in student perspectives, unpacking content and pedagogical biases, using a design thinking approach to resolving a problem of practice, and embedding a strategy to address issues of equity and/or to adapt a lesson or unit. We will also layer in discussion focused on tech tools in the larger context of remote learning, where we will use a framework to examine how online learning has potentially created new inequities or ameliorated existing ones in the science classroom. The workshop will be open to both classroom STEM teachers as well as out-of-school time (OST) educators in an effort to address context-specific challenges and to learn from each others' experiences. By collaborating in this workshop, classroom and OST STEM educators will jointly build personal and shared reflection tools to foster Culturally Responsive and Sustaining Education practices in their lesson planning and execution. Participants will leave with a set of tools and strategies to revise lessons and units, and a catalogue of examples developed during the workshop by fellow participants.
All grades welcome. Registration for each part must be made separately.
December 6, 2020 - Focus on Student Perspectives.
January 24, 2020 - Focus on Personal Biases.
February 2021 - Content Biases.
March 2021 - Pedagogical Biases.
Cost: 
$24.99 (Limited # of tickets!)
Current Teachers College students with valid ID may attend for FREE! Please email yadana@stemteachersnyc.org for your code to register.
Email questions to Registration@STEMteachersNYC.org. Note this workshop requires a minimum number of participants. In the event there are not enough participants, the workshop will be cancelled, and a refund will be issued.
Interested in purchasing a series and want an Invoice/Purchase Order Request?
Teachers! Ask your school to pay for your ticket! All the school needs to do is send us a Purchase Order (PO). Fill out our PO/Invoice survey and we will prepare you an invoice for you to submit to your school/district. Or just copy and paste the information above and let them know the workshop you want to attend. Don't be afraid to ask. There's always a chance the money will be available and they'll say yes, but if you don't ask, there's no chance at all.
Districts/Schools, to request an invoice for a STEMteachersNYC Workshop, please fill out a quick invoice survey. This is a required step in order to process your request. Any questions regarding the PO process please contact yi@stemteachersnyc.org
Please send Purchase Orders (POs) to our Billing Office
Via Email: yi@stemteachersnyc.org
OR Via US Mail: STEMteachersNYC - Billing Office 245 West 107th Street, Suite 10B New York, NY 10025.
Please read the FAQs section below carefully before registering.
FAQs
Is STEMteachersNYC an approved NYC DOE CTLE Vendor?
Yes. STEMteachersNYC is a Continuing Teacher and Leader Education (CTLE) vendor for the New York City Department of Education (#STE-068881). New York State Teachers will receive a CTLE certificate at the end of the workshop.  (CTLE ID # 23385)
How can I contact the organizer with any questions?
Questions about registration or tickets should be addressed to registration@STEMteachersNYC.org.
Questions about invoice/PO issues should be addressed to yi@STEMteachersNYC.org
Questions about our programs should be addressed to yadana@STEMteachersNYC.org
Is the full workshop fee or the balance of the workshop fee refundable? 
Refunds for the balance of the full workshop fee (that is, the full fee minus the reservation fee) must be requested within one (1) week of payment and at least four (4) weeks before the start of the workshop. All such requests must be accompanied by an acceptable, documented explanation. Judgments about acceptability of explanations and documentation, and about whether or not a refund will be issued are at the sole discretion of STEMteachersNYC and are final. Refunds will not include fees charged on the initial payment by Eventbrite, credit cards, and/or banks.
Is my reservation/ticket transferrable?
Not without authorization, please contact the STEMteachersNYC Registrar (Registration@STEMteachersNYC.org) if you need to transfer your reservation to a different person/name, or if you wish to transfer your reservation to a different workshop.
Can I update my reservation information?
Yes, you can update your reservation information.
The name on the reservation/ticket doesn't match the attendee. Is that okay?
No, please contact the STEMteachersNYC Registrar (Registration@STEMteachersNYC.org) to address this.
Can I receive college level credits?
No, but you will receive CTLE hours.
Where can I find more information about STEMteachersNYC? 
Visit our website: http://STEMTeachersNYC.org or email info@stemteachersnyc.org
How can I join STEMteachersNYC?
Click here - it's free! http://stemteachersnyc.org/join/
Members find out about workshops first and can sign up before others.
Please note: We take photographs and record video of our workshops in order to publicize a positive image of science teaching, and of STEMteachersNYC - a recognized 501(c)(3) non-profit organization. If you register, you are agreeing to be photographed and to have your voice and image video-recorded. You are also agreeing to relinquish all your rights to the photographs and video recordings.
If you do not wish to be photographed or video-recorded - you must inform us at check-in. We will take one photograph of your face so that we can erase your image if we happen to catch it by chance during the workshop, and we will do our best to avoid you. We would also appreciate your cooperation in positioning yourself at the edge of the group so as to help us avoid you.