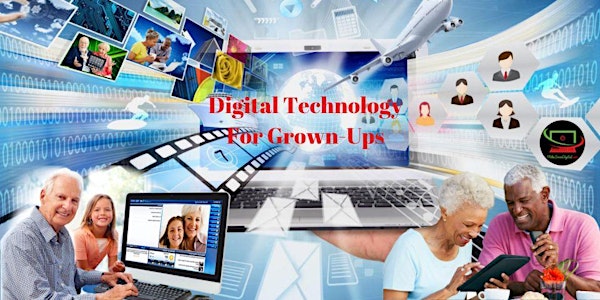 Multiple dates
Digital Technology Basic Training For Grown-Ups
If you are truly tired of fighting with your lack of Digital Technology Skills, you do not want to miss this amazing webinar.
By Mike Snow Digital, LLC
Date and time
January 27, 2022 · 5pm - December 28 · 6:30pm PST
About this event
Are you tired of fighting with your lack of tech skills? Wish you had the basic skills necessary to use digital technology effectively? Join us and learn how to use some of the many digital technology tools.
Technology is constantly changing, and it can be difficult for seniors to keep up with the latest advancements. However, with my step-by-step guidance, I can help you learn how to use technology to stay connected with loved ones, manage your finances, and even improve your health and fitness.
Some Possible Digital Technologies Discuss During The Webinar:
How to use a smartphone and its basic features, such as making calls, sending texts, and accessing the internet.
How to use basic computer functions, such as sending and receiving emails, creating and editing documents, and browsing the internet.
How to use social media platforms, such as Facebook, Instagram, and Twitter, to stay connected with friends and family.
How to use video conferencing tools, such as Zoom and Skype, to stay in touch with loved ones and participate in virtual meetings.
How to use online shopping and banking services to make purchases and manage finances.
How to protect oneself from online scams and fraud, and how to use security features such as strong passwords and two-factor authentication.
How to use streaming services, such as Netflix and Amazon Prime, to watch movies and TV shows.
How to use mobile apps for health and fitness tracking, such as fitness apps and medication reminders.
How to use voice assistants, such as Alexa and Google Assistant, to control smart devices in the home and access information.
How to use e-book readers, such as Kindle, to read books and magazines electronically.
I invite you to take the first step in mastering technology by learning about the basic features of smartphones, computer functions, social media, and video conferencing. With the help of my comprehensive guides and one-on-one coaching, you can learn how to use technology to enhance your live and stay connected to the world around you. I will provide personalized instruction and support to help you overcome any obstacles you may encounter. So, let's get started today and sign up for my FREE 2 hours of one-on-one coaching!
About the organizer
As a Digital Marketing Strategist & Coach. I provide personalized digital and social media marketing services and coaching to help business owners become more effective in their use of Digital Marketing, Social Media Marketing, Email Marketing, Conversational Marketing, Referral Marketing, Local SEO, and other Digital and Social Marketing Strategies.
I work with small/medium business owners, professional network marketers, business development professionals, nonprofit groups, and anyone looking to improve their digital or social media skill set.
PS. Also, feel free to take advantage of some free training on my website:  http://mikesnowdigital.com/free-training/