Description
In 2018 the Internet Society New York Chapter (ISOC-NY), with the support of Google, has embarked on a new project to explore and define Digital Preservation principles, protocols, and practices. Our program will commence with two events:
January 12th, 12pm - 2:00pm at Google DC — focusing on policy

February 5th, 5:30 - 7:30pm at Google NYC — focusing on business / financial motives
Both events will feature keynotes from Vint Cerf, Chief Internet Evangelist for Google.
This first event is presented in partnership with the Greater Washington DC Internet Society Chapter (ISOC-DC). It focuses on the policy aspects of digital preservation: Is there a role for regulators? Should there be global standards? Should those standards be patent-free? There is much to talk about!
While in-person participation is recommended, the session will be livestreamed via the following channels
Remote participation via Twitter: @isocny + #digitalpreservation
Please join us in person or online for an invigorating and informative conversation!
If you're attending the D.C. event, please note that parking is available beneath the building and is reachable from Massachusetts avenue.
ABOUT DIGITAL PRESERVATION
Our culture and society has been enriched by the creation and proliferation of the Internet. Information has become increasingly more accessible and has enabled so many of us to become active creators rather than passive consumers of content. With that, we're experiencing an explosive growth of digital data, with 2.5 quintillion bytes of data created every day and that data needs a place to live.
Not only does our data need a place to live, but it needs a place to survive into the future. What happens if years from now, we are no longer able to access our photos, documents, music — essentially all the records of our lives? We will not only be forgotten, but we'll be thrusting the future into a 'digital dark age'.
KEYNOTE SPEAKER
Vinton G. Cerf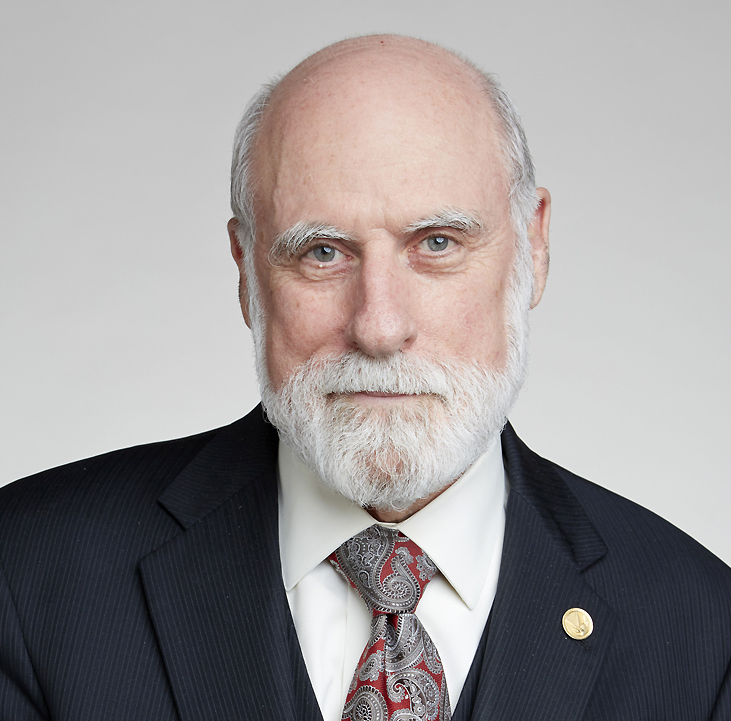 Vinton G. Cerf is vice president and Chief Internet Evangelist for Google. Widely known as one of the "Fathers of the Internet," Cerf is the co-designer of the TCP/IP protocols and the architecture of the Internet.
RESPONDENTS
Kate Zwaard
Kate is the chief of National Digital Initiatives at the Library of Congress, where she directs LC Labs (@LC_Labs, labs.loc.gov) which incubates innovative digital projects, enables computational analysis of digital collections, and shares the sense of joy we find in the Library collections and the discoveries that come from them. Prior to her work on LC Labs, Kate led a team of software developers building tools for the digital library, enabling the ingest of three petabytes of digital collections, including web archives, the first born-digital manuscript collections, and 10 million historic newspaper pages. Before coming to the Library of Congress, Kate led the team responsible for the digital preservation and authentication data architecture for the Government Printing Office's digital transformation.
Michelle Wu
Michelle M. Wu is the Associate Dean for Library Services and Professor at Law at Georgetown University Law Center, a premier law school in Washington DC known for its innovative educational program that melds law, policy, theory and practice.
Organizer of Digital Preservation: Policy Challenges (with Vint Cerf)
The mission of (ISOC-NY) is:
- in support of ISOC, to assure the beneficial, open evolution of the global Internet,
- to promote local initiatives, maximize the societal benefits which the Internet can bring to the New York area, and
- to advance the professional development of ISOC members in the New York area.
http://isoc-ny.org