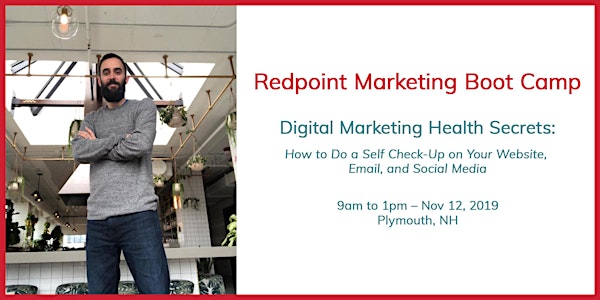 Digital Marketing Boot Camp: Self-Audit Your Website, Email, & Social Media
Travel & hospitality professionals! Learn how to self-audit and evaluate your brand's own website, email, and social media effectivenes
When and where
Location
The Common Man Inn & Spa 231 Main Street Plymouth, NH 03264
Refund Policy
Refunds up to 7 days before event
Eventbrite's fee is nonrefundable.
About this event
This boot camp for travel and hospitality professionals will cover three critical areas of your digital marketing strategy – website, email, and social media. The content is perfectly suited for:
Do-It-Yourself marketers
Marketing managers who "do it all" but are not digital specialists
Executives who manage a marketing agency and want to participate in more informed discussions about strategy and performance
Just like an annual medical exam, your brand's digital health needs a yearly check-up to ensure that things are running smoothly and issues can be fixed or prevented before they cause damage. You can easily do this yourself if you know what key symptoms and stats to review.
Led by Redpoint Vice President and lead digital strategist Ross Evans, this four-hour session covers a blend of big-picture strategic thinking and specific, turnkey tactics to keep your digital effort healthy. If words like "analytics" and "statistics" make your eyes glaze over and your brain shut down… fear not. Ross has a knack for presenting and explaining digital mysteries in plain ol' English, using examples that make it easy to understand and translate to your own needs. Highlights include:
Learn to triage your worry/attention: what are the most essential digital stats to monitor, and how do you find them?
How does your digital performance stack up in the travel and hospitality marketplace, and what can you learn from what your competitors are doing?
Who are the REAL audiences that you're reaching with your digital marketing, and how do you determine that?
How can you close the gap between who you ARE reaching and who you WANT to reach?
Spot opportunities that you're missing… both low-hanging fruit and ones that will take a bit more effort to pursue.
What content is resonating with audiences and how can you leverage that?
How to develop a realistic, sustainable growth plan for your digital effort that best suits YOUR own needs and business goals.
The meaning behind the numbers: how to objectively evaluate your digital presence with a strategic planning lens, interpreting the data wisely and using it to make decisions.
Registration fee includes full workshop sessions, generous Q&A discussion, breakfast, refreshments, and all educational materials.