Event Information
Location
CTRL Collective - Pasadena
45 S Arroyo Parkway
Pasadena, CA
Description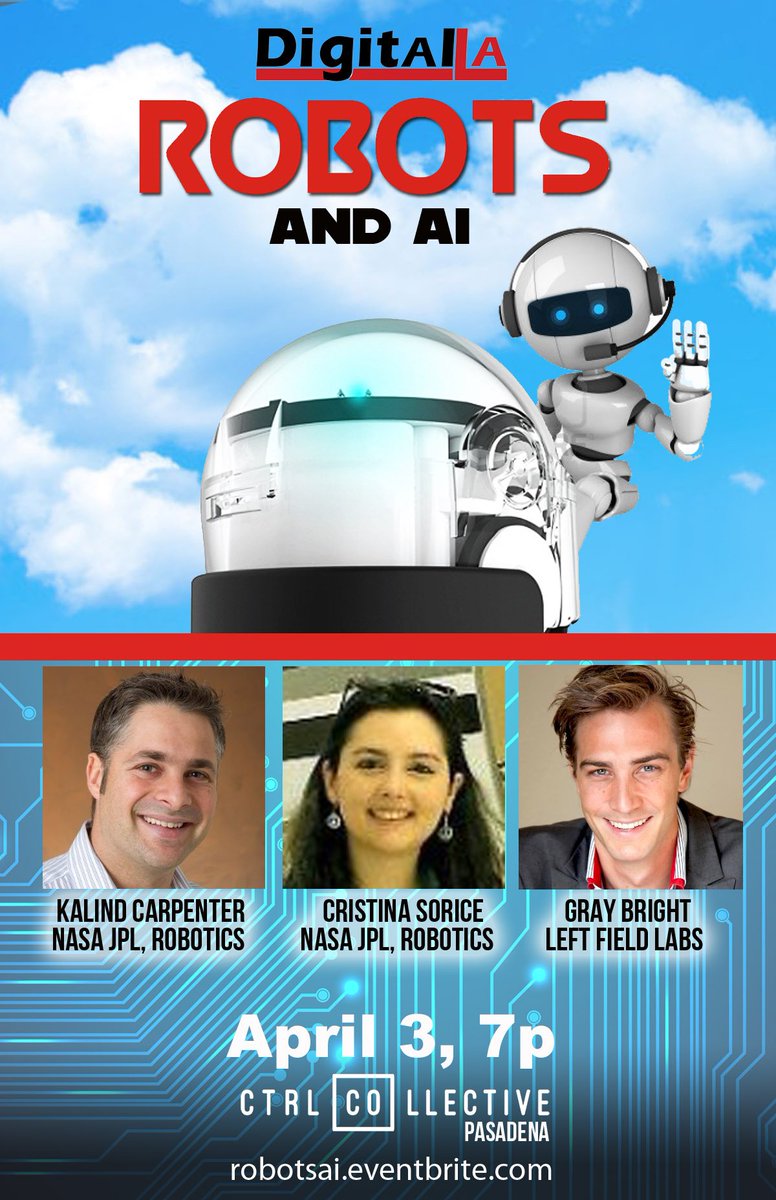 For National Robotics Week, we celebrate with our Digital LA - Robots and AI panel! We will discuss uses of robots including scientifc exploration, education, and more. What are the advancments in computer vision, AI, mobility, and energy efficiency that are driving more use of robots? How is AI being used in robotics, from AI machine vision, to AI data analysis and processing?
SPEAKERS:
- Kalind Carpenter, NASA JPL, Robotics Engineer. Kalind is a Robotics Engineer in the robotic Vehicles and Manipulators group (347B). The lab he works in focuses on rapid technology development and end effectors specifically tailored to gripping and rough surface mobility. Current work includes PI of an autonoumous swarm of robots with ground penetrating radar to map the changes in sub glacial ice in Greenland and Antarctica created by ocean currents, designing pop-up quad copters for robust stowage and fast deployment. (Co-I) on the Pop-Up Flat Folding Explorer Robot (PUFFER) Various Ocean Worlds Mobility Solutions. Micro ground vehicles task designing wall climbing robots that utilize microspines, electrostatic and Gecko adhesive to climb vertical surfaces.
- Cristina Sorice, NASA JPL, Robotics Engineer. Software development and testing for NASA's InSight mission to Mars. Quadrotor + MAV development: software, controls/autonomy, avionics, systems, software architecture, testing, etc. Software integration and testing for maritime robotics software. Project management. NASA certified sUAS (small unmanned aerial system) Ground Control Operator. Part of group 347G, Robotic Manipulation and Sampling within the Mobility and Robotic Systems Section. Part of JPL Advisory Council for Women
- Dr. Ross Mead, Semio, CEO and Founder. Semio is an LA based software startup that allows robot developers to rapidly create and deploy robot apps, and allows robot end-users to transparently access and use those robot apps. Semio provides a standardized, cross-platform operating system, cloud-based app ecosystem, and browser-based developer tools for robot developers. These apps rely on natural language, including the recognition and generation of both speech and body language, and using AI. In addition, Ross serves on the Board of Directors for two non-profit organizations: AI LA to promote artificial intelligence in the Los Angeles area, and the KISS Institute for Practical Robotics (KIPR) to promote robotics and STEM in K-12 education around the globe.
CALL FOR SPEAKERS: If you do Robots and AI, email info@digitalla.net with ROBOTS as subject and a brief description of your robotics / AI projects in the past year.
AGENDA
- 7-7:30p Check in and Networking
- 7:30-8:30p Panel
- 8:30-9p After networking.
PARKING: Park at nearby parking garages or street parking on your own, no validations given
Date and time
Location
CTRL Collective - Pasadena
45 S Arroyo Parkway
Pasadena, CA
Organizer of Digital LA - Robots and AI panel
Digital LA is the largest digital networking group based in LA, reaching more than 80,000 professionals weekly via its newsletter and social media.  Digital LA organizes weekly panels and mixers for digital professionals, including startup CEOs, VCs and investors, entertainment including Hollywood movie and TV studios, music labels, agencies, video games, VFX, social media, digital advertising, developers, designers, marketing and and more. Digital LA is the founder of Silicon Beach Fest, the original and largest multi-day startup / entertainment conference. Follow @DigitalLA.  Digital LA has been recognized by Forbes and the LA Times as keeping LA's tech community together via its fun and friendly events.