Description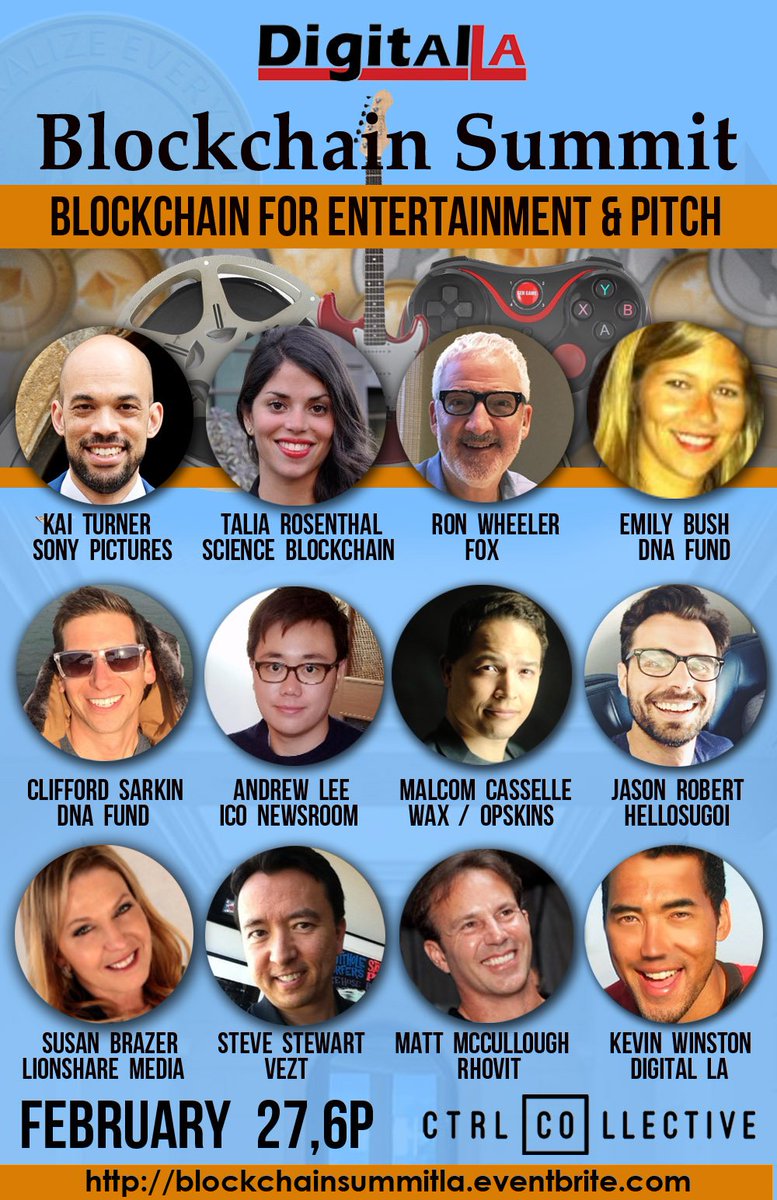 Join us for our three part Blockchain Event including a panel on blockchain, blockchain pitch, and blockchain for entertainment. Speakers will discuss overview of blockchain, digging into specific industries that are first-moving in blockchain, types of startups, how to find blockchain developers, and more. Then, several companies will pitch their blockchain startup ideas. Then, our Blockchain for Entertainment panel features music and other entertainment startups that are actively creating blockchain companies, and a Hollywood studio perspective.
AGENDA
6pm-6:30p. Check-in and Networking
6:30p - 7:15p. Blockchain Overview

Speakers discuss blockchain use across multiple industries.
- Talia Rosenthal, Science Blockchain, Asset Manager. Science Blockchain is the blockchain-focused divison of the Science accelerator, founded by Mike Jones with Peter Pham. Talia oversees incoming companies.
- Clifford Sarkin, DNA Fund, Venture Partner. A three-time start up executive, Cliff now advises blockchain startups in all aspects of the ICO process. His clients include Robot Cache (the first decentralized video game distribution platform that will allow for peer-to-peer trading of PC games), Blockchain Terminal (an institutional-grade trading & analytics ecosystem for hedge funds), and Hashgraph (a patented distributed ledger technology that promises a evolution in speed, security and fairness over existing blockchain protocols).
- Emily Bush, DNA Fund, Advisor. Emily is an advisor at Brock Pierce's DNA Fund, and recently listed on Top 100 People in Cryptocurrency. She is an entrepreneur & angel investor focused on disruptive businesses. Founded a boutique hotel & built a real estate tech brokerage company. Worked at CBRE for the #1 brokerage team in the world. Sold +$1B worth of real estate in NYC. Advisor for Tushy.me. Syracuse University, B.S. biomedical engineering. Division 1 athlete.
CALL FOR SPEAKERS: Email info@digitalla.net with BLOCKCHAIN as subject and a brief bio
7:15p-8p. Blockchain Pitch
4-6 blockchain startups will 5-min pitch their blockchain idea to our panel of judges, with 5 min Q&A from speakers and audience. The judges and attendees will each pick a winner.
PITCHES include:
- Sohrob Farudi, Fan Controlled Football League, CEO. - Tokenizing Professional Sports. The FCFL will be a real-life professional league comprised of 8 teams all controlled by the fans. Fans will make all decisions for each team including hiring/firing coaches, choosing the players that make the teams and even calling all of the plays in real-time using the FCFL's mobile app and integration with Twitch. Fan power and decision making in the league will rely on the Fan Access Network (FAN) Token, an ERC20 compliant token on the Ethereum blockchain.
- Bob Vanech, Trebel, CFO. Trebel will use blockchain technology to track ad playback on song consumption via the TRBL token, replacing its current coin system, database and encryption technology
- Michael Egan, Ponder, CEO. Ponder is a platform for making human introductions at scale. The application, which currently exists, uses game mechanics and financial rewards to motivate people to play matchmaker and it is radically changing the concept of a "dating app". The company is launching a token sale on Valentine's Day and will be incorporating blockchain into its existing technology in order to turn the application into a platform where anyone can set up a matchmaking service (romantic, recruiting, services, etc.).
- Ray Young, RightsLedger, CEO
CALL FOR PITCHES: If you have a 5-min blockchain pitch, email info@digitalla.net with BLOCKCHAIN as subject
8:00 - 8:30p Presentation: "Humanizing the Blockchain"
Kai Turner, Sony Pictures Entertainment, User Experience, Platform & Innovation. Kai is part of the digital platform group at Sony, where he is helping to organize the various efforts within Sony related to digital ledger technology. He's currently developing 3 patent applications for Sony related to blockchain technology as it relates to media, games and advertising. With a background in user experience design, Kai is aware of the short-comings and barriers impeding the mainstream adoption of blockchain technology and cryptocurrencies. 15 min speech plus 15 min Q&A.
8:30 -9:30p. Blockchain for Entertainment
Experts will discuss their blockchain music, video, and other blockchain for entertainment.
- Ron Wheeler, Twentieth Century Fox, SVP, Content Protection and Technology Strategy. Advises Fox on new techologies including blockchain, provides counseling on content protection strategy, co-represents Fox at the Motion Picture Association of America (MPAA), Motion Picture Laboratories, Inc. (MovieLabs) and multi-industry standard-setting organizations (including key roles representing Fox at the DVD CCA, and the Blu-ray Disc Association, BD+ Technologies, LLC, the China DRM Forum, and the new HDR10+ JV).
- Malcolm CasSelle, WAX, CIO OPSkins. OPSkins created the WAX token to allow in-game purchases.
- Jason Robert, HelloSugoi, CEO and Co-Founder. HelloSugoi is an event ticketing platform built on the Ethereum blockchain. Jason manges company operations, drives product development, and formulates market strategy. He also develops key partnerships with event organizers, artists, and investors and leads brand awareness by leveraging social media, speaking engagements, and blockchain Meetups. @hellosugoi
- Susan Brazer, LionShare Media, CEO. LionShare has architected a mobile video streaming platform to deliver content in modules/micro-engagements that can be paid for using a Lionshare token. Currently writing the white paper and already built much of the platform. Currently evaluating different approaches for the Lionshare utility token for in-app purchases and rights clearances.
- Matt McCullough, Rhovit, CEO, Founder. Rhovit is creating a gamified entertainment platform utilizing an Ethereum backed crypto-currency as well as an in platform virtual currency. Together they create a circular ecosystem that constantly rewards providers and users. Its token the Rbit incentivizes all activity for the users and providers; its sale launches in June and run for a year.
UPDATE: Previously scheduled Andrew Lee of ICO Newsroom and Steve Stewart of VEZT no longer able to attend.
9:30 - 10:30p. Networking.
DEMO TABLES are availlable to promote your product or service. After you register a Demo Table above, email info@digitalla.net with DEMO TABLE so we can set you up with logistics for load in. Demo Tables receive an approx 6' table with access to power in the main room for you to meet potential clients and customers before, during and after the panels.
PARKING: Complimenary parking in the CTRL lot after 6pm
Thanks to our venue host CTRL Collective, a collaborative community for entrepreneurs and small businesses. If you're intersted in a tour of the open desk space or private office, email doug@ctrlcollective.com and mention Digital LA.