Description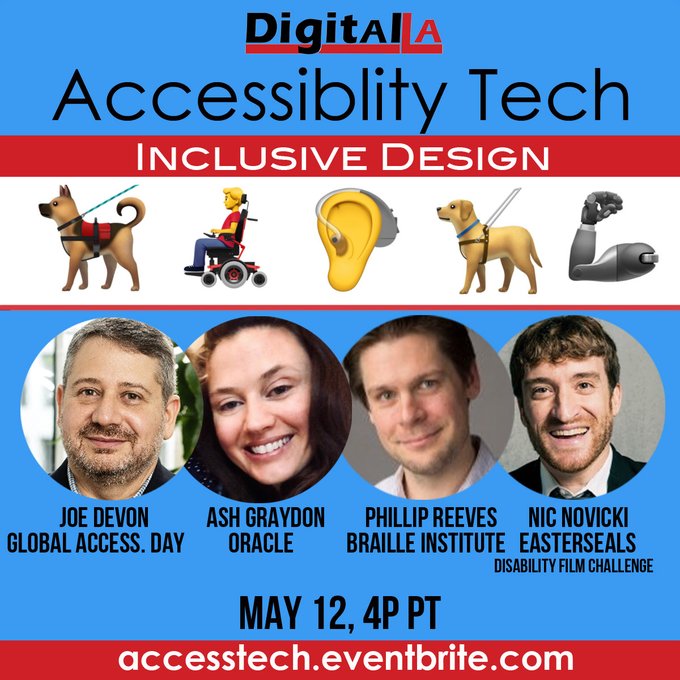 Accessibilty Tech panel celebrates innovation in tech for vision, hearing, mobility, and more.
This panel is via Zoom. You will recieve a link to the Zoom the morning of the event.
Joe Devon, Global Accessibilty Awareness Day, Founder of the ninth annual GAAD event to incease awareness, thought leadership, and learning about digital (web, software, mobile, etc.) access and inclusion and people with different disabilities. Details: https://globalaccessibilityawarenessday.org Co-founder at Diamond, an inclusive digital agency.
Ash Graydon, Oracle, Research Lead, Oracle Cloud Institute. Oversees studies conducted to improve OCI's user experience, including accessibilty.
Phillip Reeves, Braille Institute. Oversees the day to day operations and managed educational programs focused on client growth, including technology advancement and tech classes for the vision impaired, for Braille Institute
Nic Novicki, Easterseals Disability Film Challenge, Founde. The Film Challenge is a weekend film competition where filmmakers create films featuring people with disabilities in front of and behind the camera. Sponsors have included Adobe, Dow Jones, Film Independent, HBO, Sony Pictures Entertainment, Universal Pictures, Warner Brothers etc.
Moderator: Kevin Winston, Digital LA
SPONSORS - Contact info@digitalla.net with ACCESS as the subject