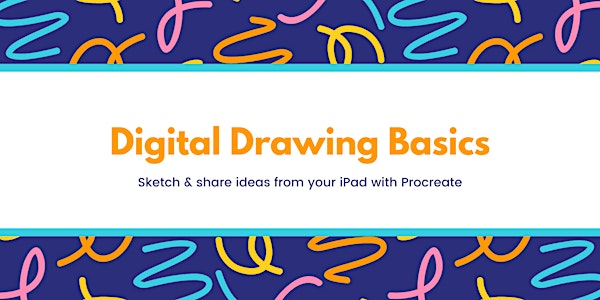 Digital Drawing Basics: Sketch & share ideas from your iPad with Procreate
Sketching and sharing ideas from your iPad is easier than you think! Learn the basics of drawing and sharing simple sketches with Procreate.
About this event
Do you miss the whiteboard in your office?
Do you wish you knew how to doodle on your iPad and share in the same way you can doodle on a post-it and pass it around?
Are you ready to add the skill of sketching out ideas to your digital toolkit?
Spend a Friday afternoon in this interactive 2.5 workshop designed to get you sketching and sharing as simply as possible.
What we'll cover
Over 60% of all people learn visually, so it pays to know how to sketch out an idea, even if it's simple, to share with your teammates.
Procreate is a an award-winning drawing app for the iPad (sorry Android users!) that costs $9.99. Although it can be overwhelm to sort out what's important to know about Procreate to get started, we'll cover just enough information to get you sketching and sharing.
We'll learn about the studio ink brush, controlling the brush, manipulating the canvas, importing a photo into procreate, exporting your drawing for sharing and the basics of layers.
What you'll need
This class is best experienced with an Apple iPad that has Procreate installed and an Apple Pencil. If you want to watch the instruction to see what it's like to do this type of digital drawing and sharing, it's still ok to join us, but it won't be as fun.
Join with your team
This event is perfect for individuals and small teams who want to improve how they communicate with each other or who are looking for a way to do something valuable and fun while everyone is at home.
We have a team ticket option to set up your entire team with access to the class. Select the "Team Ticket" when purchasing and we will send details to you about how to join prior to the class.
Although we are focusing on using Procreate at work, we suspect kids age 14 and up might also enjoy this workshop. It is, after all, a Friday art class ;o)
Organized by
This event is organized and facilitated by Marlena Compton, founder and creative director of Appear Works and organizer of "Let's Sketch Tech!"
All attendees are required to agree and abide by the Appear Works Code of Conduct.
If you cannot afford the ticket fee, email info at appearworks dot com. No one will be turned away for lack of funds.