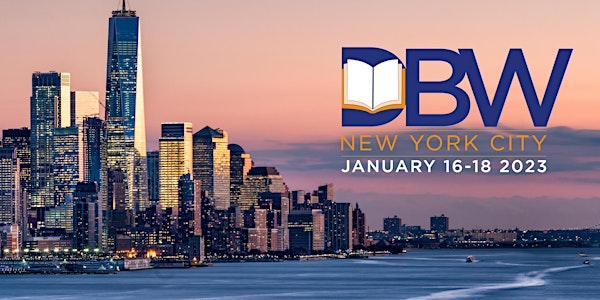 Digital Book World 2023: Return to NYC
The annual publishing and technology gathering, started over a decade ago in New York City, heads home.
When and where
Location
Sheraton New York Times Square Hotel West 53rd Street New York, NY 10019
Refund Policy
Contact the organizer to request a refund.
About this event
2 days 3 hours

Mobile eTicket
Digital Book World, the annual gathering of the publishing industry, returns home to New York City after six years.
The International Publishers Association, a star-studded panel on Black Women in Publishing, Spotify, Feminist Press, Publishers Weekly, Benetech, Ingram Content Group, Scribd, Words Without Borders, Arizona State University, The Atlantic, Overdrive, Jane Friedman, Data Conversion Laboratory, Capstone Publishing, DAISY Consortium, Fable, X Artists' Books, Bill Kasdorf, the Association of American Literary Agents, Print Media Centr, Amazon, Open Road Media, Dosdoce, Bookwire GmbH, Bowker, the New York Public Library, BISG, PageMajik, and more highlight the historic return of Digital Book World to New York City.
The full list of Digital Book World Awards categories is here.
DIGITAL BOOK WORLD 2023 PROGRAM
Monday January 16
7:30 AM - Registration opens
8:30 AM - Welcome
8:35 AM - A New Beginning: IPA @ Digital Book World
9:00 AM - Black Women In Publishing
9:50 AM - The Third Pillar: Spotify and the Audiobook Market
10:10 AM - BREAK
10:30 AM - A Journey In Publishing: From Kickstarter To Feminist Press
10:50 AM - PANEL: On Accessibility in Publishing
11:30 AM - LUNCH / DEDICATED EXHIBIT HOUR
1:00 PM - What's Old Is New Again: Publishing's Next Chapter
1:20 PM - Synthetic Voice And The Future Of Audiobooks
1:40 PM - AI-Enabled Quality Control for Audiobooks
2:00 PM - The Kitchen Sink: Mixing Media To Drive Readership
2:20 PM - BREAK
2:40 PM - Serialized Fiction is Back: Investing Millions Into A Growing Category
3:00 PM - Controlling The Narrative: How Arizona State's Narrative Storytelling Program Is Paving The Way To Greater Public Engagement
3:20 PM - The New Frontier of Digital Reading: Upgrading the Reading Experience
3:40 PM - Trends in Content Creation Using AI and Smart Technology
4:00 PM - The Audiobook Phenomenon: Accelerating Your Audio Business Across Growing Markets
4:20 PM - Fireside Chat: Catching Up With Mary McAveney (Abrams)
7:00 PM - DIGITAL BOOK WORLD AWARDS
Tuesday January 17
8:00 AM - Registration opens
9:00 AM - Fearless Books In A Fearful Time
9:40 AM - A Panel From The Printerverse: The Intersection Of Print and Digital Publishing
10:15 AM - BREAK
10:35 AM - Unlocking Our Libraries: How Data Conversion Informs Accessibility
10:55 AM - "Alexa, What Should I Read Next?"
11:15 AM - How the University Press of Mississippi Automated Their Website To Sell Directly To Consumers
11:35 AM - Digital Ownership, NFTs, and Revenue Streams For Publishers
12:00 PM - LUNCH / DEDICATED EXHIBIT HOUR
1:00 PM - Voice Tech / Conversational AI: Evolving The Modern Publisher
1:20 PM - Driving Digital Book Discovery & Sales through Libraries & Schools
1:40 PM - PANEL: Media, Publishing, And The Creator Economy
2:30 PM - BREAK
3:00 PM - Monetizing The Backlist
3:20 PM - How Discounts Drive Discovery: A Look at Reader Behavior
3:40 PM - Buncee / Capstone Publishing
4:00 PM - Accessibility On A Budget: Retrofitting The Backlist
4:30 PM - The Digital Originals: How To Market Your Books With NFT Technology
Wednesday January 18
8:00 AM - Registration opens
8:30 AM - PANEL: A Discussion of Book Publishing Startups in the United States
9:15 AM - PANEL: Modern Publishing Industry Rights Management
10:00 AM - The Business Opportunities For Publishers With Podcasting
10:45 AM - Rethinking Your Platform: Monetizing Audiobooks and Podcasts
11:15 AM - CLOSING KEYNOTE: Metrics, Analysis, and Best Practices With BookTok
12:00 PM - Adjourn