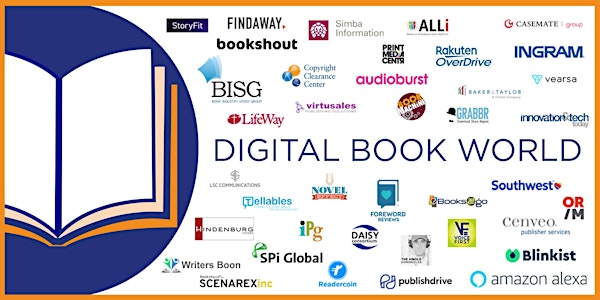 Digital Book World 2018
When and where
Location
Music City Center 201 5th Avenue South Nashville, TN 37203
Description
Thought leadership, best practices, and a gathering of community across the wide world of publishing.
Trade publishing.
Scholarly and academic publishing.
Corporate publishing (companies such as Southwest Airlines which quietly publish more content than most small to mid-size publishers do).
Independent publishing.
Educational publishing.
Audiobooks, podcasts, & voice-first technology such as Amazon's Alexa.
Blockchain, AI, & next-generation tech that is delivering publishing's future.
And much, much more.
---
The powerhouse Digital Book World 2018 program includes Simon & Schuster, Amazon, Intel, Pamela Paul of The New York Times Book Review, Bill Kasdorf, Southwest Airlines, Penguin Random House, Orna Ross of ALLi, Novel Effect, Princeton University Press, Karen Wickre, VoiceFirst.FM, Duke University Press, DAISY Consortium, Data Guy, BookMachine, Scribd, Nick Quah of Hot Pod, and a keynote by legendary tech journalist Walt Mossberg.
---
Breakout tracks capture a broad cross-section of the wide world of publishing:
Data Book World
Marketing Book World
Production Book World
Education Book World
Legal Book World
New Media Book World
All are essentially mini-conferences all their own, providing best practices that will benefit every type of publisher.
---
Check out www.DigitalBookWorld.com for all information about Digital Book World 2018, including programming lineup, speaker bios, exhibit hall information, and latest news.
---
And once you're registered for Digital Book World 2018, sign up for any of the FREE workshops (which are open to all DBW 2018 attendees, while space permits), provided by our sponsors and partners:
Creating A Winning Press Release (Monday, October 1, 8:30 AM - 9:30 AM)
Podcasting As Marketing (Monday, October 1, 9:45 AM - 10:45 AM)
Alexa Skill Building For Publishers and Authors (Monday, October 1, 11:00 AM - 12:30 PM)
Running An Indie Author Business (Monday, October 1, 12:15 PM - 2:15 PM)
Blockchain Technology: How It Applies To The Publishing Industry (Monday, October 1, 2:30 PM - 4:30 PM)
---
FAQ
What are my transportation/parking options for getting to and from the event?
Parking is available and plentiful at the Music City Center attached garage. However, it isn't cheap - Uber is also readily available across downtown Nashville and may be an easier option to use if you need a car to get to the venue. Staying in a hotel located adjacent to the Music City Center is also available, and makes it easier to walk to and from the venue.
How can I contact the organizer with any questions?
DBW@ScorePublishing.us is an email account specifically set up for Digital Book World 2018 questions. Email us at any time and we'll respond to you within one business day.
What's the refund policy?
Digital Book World has a no refunds policy, though you can transfer your pass to a colleague or issue a new pass for next year's conference in the event of an emergency which prevents you from attending.
DISCOUNTS - NON-PROFITS, EDUCATORS, STUDENTS, SOLO AUTHORS/INDEPENDENT PUBLISHERS
If you're a full-time employee of a 501(c)(3) non-profit organization (or the international equivalent), use discount code NONPROFIT2018 to save 40% on your pass. Please be prepared to show documentation proving your employment with said non-profit, as well as documentation of your organization's non-profit status, upon arriving at Digital Book World 2018. Employees of local, state, or federal government located within the United States or US territories are also welcome to use this code to save 40%, but please bring proof of employment to Digital Book World 2018 in the event we ask to see it to confirm your status.
If you're a full-time educator or full-time student at an accredited academic institution within the US or abroad, use the discount code EDUCATOR2018 or STUDENT2018 to save 60% on your pass. Librarians, or full-time or part-time staff of libraries, may also use these discount codes to save 60%. Please be prepared to show documentation proving your employment or enrollment with said academic institution upon arriving at Digital Book World 2018.
If you are a solo author, we here at Digital Book World group you in as an "independent publisher," because that's what you are! There are deeply discounted passes available for you, to make this one-of-a-kind industry event accessible, through our partnership with the Alliance for Independent Authors. Become a member of their organization and get access to that discount code - contact them for details.
Similarly, if you are a small publisher, our partnership with IBPA will help you save money on passes to attend Digital Book World 2018. IBPA also has exclusive access to a limited number of exhibit-hall-only passes. Please contact them for details, keeping in mind you need to be a member of their fine organization in order to receive these benefits.