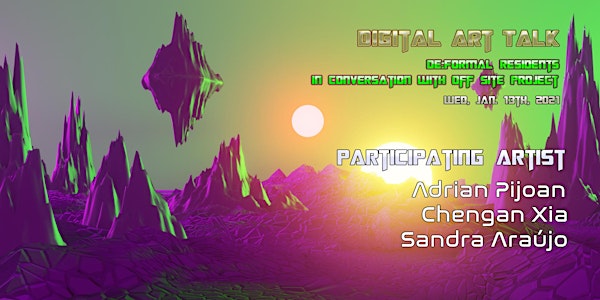 Digital Art Talk- De:Formal Residents in Conversation with Off Site Project
Artist talk featuring De:Formal residents, followed by a conversation with digital art curators and researchers from Off Site Project.
About this event
The first round of De:Formal Online Residency has come to an end! To celebrate, three De:Formal residents will present digital installations created during their residencies, followed by a conversation with guest curators from Off Site Project, Elliott Burns and Pita Arreola-Burns.
Featuring: Adrian Pijoan, Chengan Xia, and Sandra Araújo.
Guest Curators: Elliott Burns and Pita Arreola-Burns from Off Site Project
Why should I attend?
De:Formal Residency is a virtual program for artists to create internet art and explore art making in a digital form. The program was created as a response to COVID-19, intended to encourage art making and community building during the time of social distancing. De:Formal Residency aims to be a virtual space for international artists to explore and create digital work.
Join us to learn more about internet art and see how each artist creates interactive artwork in the browser. Gain insights on digital art and its relationship with political misinformation in our conversation with guest curators from Off Site Project.
About the artists:
Adrian Pijoan transmits his work from somewhere out in the desert of the American Southwest. Sightings of Adrian have been reported at UFO festivals, Bigfoot research conferences, and in the dark recesses of the comments sections of low view count YouTube videos. Through his work Adrian explores the mythological landscapes of both real world and digital places, with a focus on the paranormal as contemporary folklore.
Chengan Xia is a visual artist and graphic designer based in Chicago and Shanghai. By utilizing printed matter, photography, video, and installation, his work celebrates the "trash aesthetics" born from Chinese low cultural phenomena. With the methodology of appropriation, collage, and building ironic narrative, his work critiques the fetishism manifested in such culture, which involves broader discussion of consumerism, technology, tradition, and politics.
sandra araújo ::::: : is a < ηoη-biηaґy && geηdeґqueeґ > tґaηsmedia aґtist that speηt eηdless houґs fighting moηsteґs & stґolliηg thґough mazes. so, it oηly felt ηatuґal for < them > 2 evolve thґough aη expeґimeηtal & exploґative pґocess of gamiηg visual cultuґe & populaґ gif files. also feeds oη social media platfoґms 2 eηgage < heґ > aηimatioηs iηto the depths of geηdeґ ґole play & political plots.
About De:Formal:
De:Formal is an artist-run online platform dedicated to promoting critical conversations in contemporary art. We present emerging and mid-career artists who work with video, performance, installation, sculpture, media art and other forms under-recognized in the conventional gallery system. We conduct artist interviews, curate online and offline exhibitions, and host monthly virtual residencies.
About Off Site Project:
Off Site Project is an online curatorial practice founded by Pita Arreola-Burns and Elliott Burns, which runs a programme of homepage exhibitions; downloadable ZIP shows; and a residency based in Google Maps. Through its exhibition programme Off Site Project has explored issues pertaining to our increasingly networked, digitised world, from post-colonialism in Latin America to the increasingly monetised wellness industry, around societal effects of the internet to the prevalence of conspiratorial thinking, as well as the creative identity of AI minds and our ability to inhabit multiple realities through avatar creations.