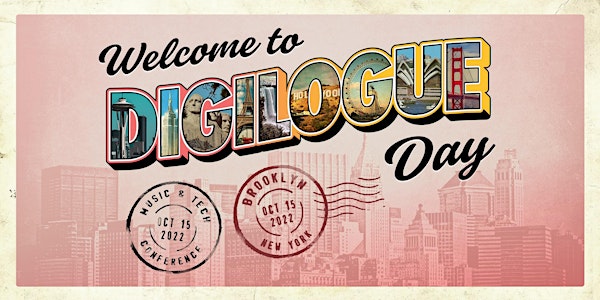 Digilogue Day / Music & Tech Conference / October 15th / Brooklyn, NYC
Digilogue Day is an all day music and tech conference supporting artists, students, professionals, creatives, and music lovers!
When and where
Location
Industria Williamsburg 39 South 5th Street Brooklyn, NY 11249
Refund Policy
Contact the organizer to request a refund.
Eventbrite's fee is nonrefundable.
About this event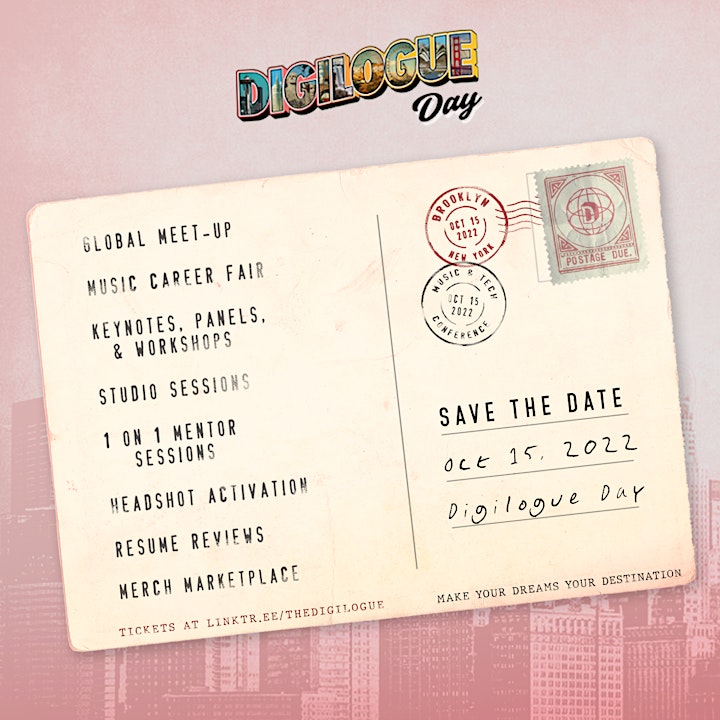 DIGIFAM!
We're super excited to program an important music and tech conference supporting artists, students, professionals, creatives, and music lovers! On October 15th, we're celebrating Digilogue Day with a full day of programming that will include the below. We're also programming events throughout #DigiWeek!
DIGIWEEK!
Digilogue Day Official Kickoff Party powered by Vydia - Friday, Oct 14th
Happy Hour powered by Highnote - Thursday, Oct 13th
For those who can't attend, we'll also be streaming the panels and workshops for virtual attendees!
A Global Meet-Up
Music Career Fair
Keynotes, Panels, and Workshops
Artist Discovery Expo
Studio Sessions
1-on-1 Mentor Sessions
Headshot Activation
Rapid Resume Reviews
Merch Marketplace
Global Meet-Up (10-7PM ET) Digilogue Day will be our biggest Meet-Up of the year and will give attendees an opportunity to network and build relationships across the music community.
Music Career Fair (10-7PM ET): Our Music Career Fair will be the first in NYC since the pandemic hosting music and tech brands and having their Talent Acquisition teams represented.
Keynotes, Panels, & Workshops:
Lessons Learned Opening Keynote (10:30 – 11 AM ET)
Artistpreneurship Panel: Becoming The CEO of Your Music Business (11:30 AM – 12:15 PM ET)
Even with a team around you, artists need to be in control of their business. There are more revenue streams and resources out there for you than ever before, so how does one navigate the landscape, but still be creative in the process? Join these crucial artist partners as they walk through the ways artists can be successful entrepreneurs in the modern music business.
Moderator: Jason Reddick, Director of Creative Services, ASCAP
Jamie Dominguez, Regional Director of Business Development & Artist Relations, Sound Royalties
Piff Marti, Artist
Ashley Merritt, Marketing Director, APG
Workshop (12:30PM -1PM ET)
The Pivot Panel: Why It's OK to Have a Non-Linear Career Path (1:30 – 2:15 PM ET )
Some people enter the music business and have a straightforward journey – whether it's climbing up the label ladder or a life-long career in management. Others (more than you think) switch focus or industry entirely – whether from digital marketing to DSPs, A&R to distribution, artist to tech, and so on. The truth is … it's possible and totally fine. Come hear more about these non-linear career paths and maybe you'll be inspired to get on a new track.
Moderator: Kathi Ramsey, Warner Music Group
Maria Gironas, Sr. Media Partnerships Manager, Talent, Reddit; Founder, Cool Shit, Cool People
Liz Eason, Head of Label Services, Vydia
Jade Lewin, Sr. Director, Artist Services, The Orchard
Jesse Feister, Global Head of Creator Marketing, Twitch
The MLC Workshop: A Deep Dive into Understanding Digital Mechanical Royalties (2:30PM -3PM ET)
Serona Elton, Head of Educational Partnerships at The MLC
The way digital mechanical royalties in the U.S. are collected and distributed has changed in recent years, thanks to the Music Modernization Act, which established the Mechanical Licensing Collective (The MLC). This session will explain what mechanical royalties are and how they connect back to copyright law, the different types of digital uses of music that generate mechanical royalties, and how digital mechanical royalties flow from digital music services to The MLC to rightsholders. Music publishers and self-administered songwriters will also come away from the session understanding who should become a Member of The MLC and how to join.
Building Together Panel: Cultivating Community for Execs + Artists (4 - 4:45 PM ET)
Solely transactional and opportunistic behavior in the music business is in the past. Community building, dot connecting, and true action-based relationships rooted in trust are the future. More than ever, there are digital tools (like Twitch and Discord!), events (like this one!), and social groups of people who share common interests for people in our industry to connect and feel a sense of belonging. As executives AND artists, how can you join these communities (or even build your own fandoms?) What can you do to add value to that industry, friend, or fan community? How can you connect dots, become a cultural curator, and help others along the way?
Moderator: Nick Maiale, Founder & CEO, jump.global
Alexi Rabadam, CEO, Finessed Media
Kayvan Daragheh, Artist Relations Director, Genius
Denisha Kuhlor, Founder & CEO, Stan
Lisa Robinson, VP, Community & Social Engagement, Downtown Music Holdings
Highnote Workshop (5PM -5:30PM ET)
The State of Music and Tech Panel: Where We Are & Where We're Going (5:45 – 6:30 PM ET)
The music business is always changing and always will. What do you expect when you mix technology, creativity, and a fast-paced environment? Join this discussion as we bring together industry leaders within platforms, startups, web3, and more to talk about how we can take on these developments head first. What does the industry look like in 2025? What's the definition of an artist in 2030? How does this affect the career landscape for deceased to come? Let's dive in.
Moderator: Paulina Vo, Co-Founder & GM, The Digilogue; Co-Founder, Highnote
Melanie McClain, Head of Community, P00LS
Dev Tejwani, Head of Product, Beatclub
Jordan Sowunmi, Lead, Music Editorial & Content Strategy, TikTok
Karen Kieves, Director of Creator Partnerships & Marketing, Wave
Moving Forward Keynote (6:45 – 7:15 PM ET)
1-on-1 Mentor Sessions (11 – 6PM ET): Attendees will have an opportunity to talk to mentors at Digilogue Day. 1 attendee per mentor. Sign-up form is available with limited spots!
Goldie Harris, UnitedMasters
Jade Lewin, The Orchard
Mike Epstein, Cinematic Music Group
Lorraine Galvis, Entertainment Lawyer
Chadae Bowler, The Orchard
Yudu Gray, Music Manager
Karen Kieves, Wave
Kaylah Calvert, Atlantic Records
Amanda Cabrera, Atlantic Records
Melanie McClain, P00LS
Ari Fouriezos, Queer Capita
Leslie Rosales
Naydeen Rodriguez, Roc Nation
Mika Sunga, VEVO
Vanessa Noguera, Warner Music Group
Aylish O'Sullivan, ADA/WMG
Jeffrey Saravia, Soundcloud
Kayvan Daragheh, Genius
Tevaar Smith, The Orchard
Now Playing Sessions (11-7PM ET): Select artists will have an opportunity to play their music for our Artist Discovery team, A&Rs, Distributors, and Labels. Sign-up form will be available with limited spots available.
Rapid Resume Reviews (11-7PM ET): Attendees will have an opportunity to get their resumes reviewed by our Music Career team. Sign-up form is available with limited spots!
Merch Marketplace (10-7PM ET): Select artists will be able to sell merch at the conference. Support indie artists by purchasing their merch.
Headshot Activation (10 -6PM ET): Attendees will have an opportunity to get their headshot taken. First come first serve at the event.
MAJOR THANK YOU TO OUR SPONSORS!
Champion Sponsors: DistroKid and Vydia
Premium Sponsors: The Orchard and Highnote
Pro Sponsors: The MLC, ONErpm, Warner Music U, Sound RoyaltiesAudiomack
Plus Sponsors: Shure, Green Room, Major Stage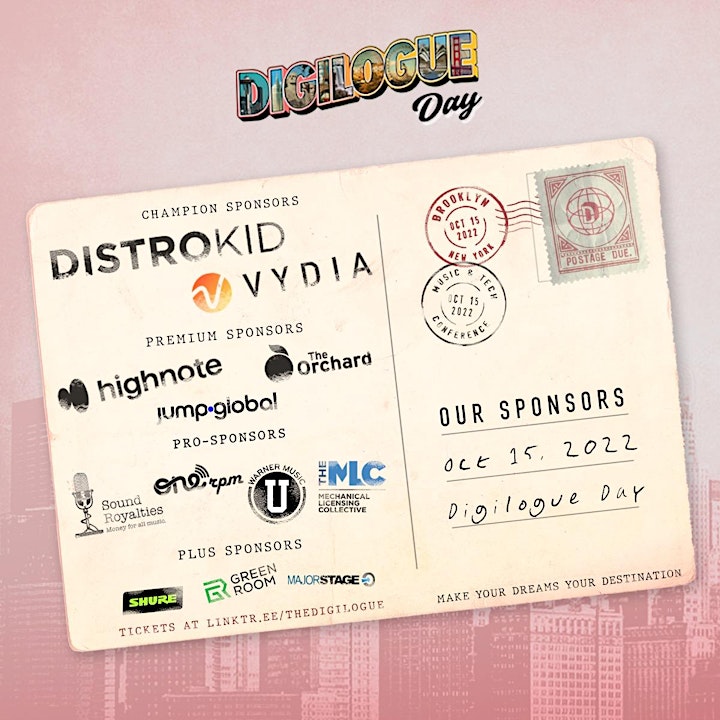 Celebrate the night before Digilogue Day with attendees and our friends at Vydia!
Open bar from 7PM - 9PM I Must be 21+
Music by DJ Rubie Lee and King Marie
Hosted by Cierra Brooks