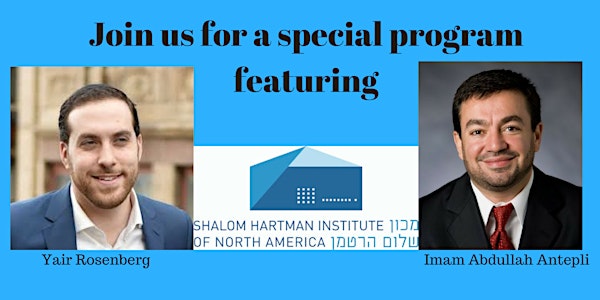 Difficult Curiosities: The Promise of Transformative Conversations
By BD, CFGG, Greensboro Bound, GJF, IFCM, IFSM, ICRM, NCCJ, TE - full names in description
Date and time
Wednesday, January 23, 2019 · 7 - 9pm EST
Location
International Civil Rights Center & Museum 134 South Elm Street Greensboro, NC 27401
Description
American Jewish journalist Yair Rosenberg (The Tablet) and Duke University's Imam Abdullah Antepli will be in conversation about "difficult curiosities": conversations across ideological and political differences as an act of civic engagement.
The evening will demonstrate how two religions often perceived to be in conflict can meaningfully engage, both online and off, by respectfully honoring one another's vulnerabilities and serving as contributors to larger American discussions on race, identity, and citizenship.
This conversation is moderated by writer Deonna Kelli Sayed, Festival Coordinator of Greensboro Bound, and offers a model for engaging in dialogue around religious and political diversity in America.
Note: Speaker update with bios below
Yair Rosenberg is a senior writer at Tablet Magazine, where he covers the intersection of politics, culture, and religion. His work has also appeared in the New York Times, Washington Post, Wall Street Journal, The Atlantic, and The Guardian, and his writings have received awards from the Religion Newswriters Association and the Harvard Center for Jewish Studies. He has also elicited a correction from the United States Supreme Court on a point of Jewish History, and in 2017, he was named to the Jewish Week's 36 Under 36. A graduate of Harvard University, he has covered everything from misrepresentations of Orthodox Jews in the media, to Muslims and Jews in comic books, to political anti-Mormonism, and in his spare time, he creates bots that troll anti-Semites on Twitter.
Imam Antepli completed his basic training and education in his native Turkey. From 1996-2003 he worked on a variety of faith-based humanitarian and relief projects in Myanmar (Burma) and Malaysia with the Association of Social and Economic Solidarity with Pacific Countries. He is the founder and executive board member of the Association of College Muslim Chaplains (ACMC) and a board member of the Association for College and University Religious Affairs (ACURA). From 2003 to 2005 he served as the first Muslim chaplain at Wesleyan University. He then moved to Hartford Seminary in Connecticut, where he was the associate director of the Islamic Chaplaincy Program & Interfaith Relations, as well as an adjunct faculty member.
He previously served as Duke University first Muslim chaplain from July 2008 to 2014. In his current work at Duke, Antepli engages students, faculty, and staff across and beyond campus through seminars, panels, and other avenues to provide a Muslim voice and perspective to the discussions of faith, spirituality, social justice, and more. Imam Antepli also serves as a faculty member in the Duke Divinity School, teaching a variety of courses on Islam and Muslim cultures.
About the organizer
Co-sponsored by Beth David Synagogue, Community Foundation of Greater Greensboro, Greensboro Bound, Greensboro Jewish Federation, Greensboro Interfaith Clergy Mission, Greensboro Interfaith Study Mission, International Civil Rights Center and Museum, National Conference for Community and Justice of the Piedmont Triad, Temple Emanuel