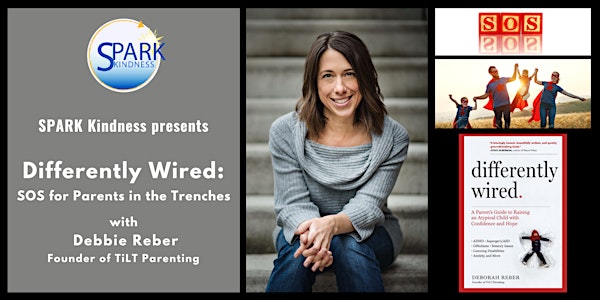 Differently Wired: SOS for Parents in the Trenches with Debbie Reber
SPARK Kindness presents Differently Wired: SOS for Parents in the Trenches with Debbie Reber
About this event
For parents, caregivers, educators, and community members of all ages
Behind every child who is differently wired is likely one or more frustrated, isolated, perhaps even burnt out adult. In this practical and actionable talk, author and parenting activist Debbie Reber, MA, shares ten powerful "tilts," a.k.a. practical ideas to help parents shift their thinking and actions in a way that will help them feel more confident and peaceful about their everyday reality, create a stronger family dynamic, and give their extraordinary children what they need to thrive.
ASL Interpretation will be provided at this event.
About Our Presenter
Debbie Reber, MA is a parenting activist, bestselling author, speaker, and the CEO and founder of TiLT Parenting, a resource, top-performing podcast, consultancy, and community with a focus on shifting the paradigm for parents raising and embracing neurodivergent children. The Tilt Parenting Podcast has more than 5 million downloads and a slate of guests that includes high-profile thought leaders across the parenting and education space. A regular contributor to Psychology Today and ADDitude Magazine, Debbie's most recent book is Differently Wired: A Parent's Guide to Raising an Atypical Child with Confidence and Hope. In 2018 she spoke at TEDxAmsterdam, delivering a talk entitled Why the Future Will Be Differently Wired.
Prior to launching Tilt, Debbie spent fifteen years writing inspiring books for women and teens, including Doable, Chill, In Their Shoes, The Real Deal series from Chicken Soup for the Soul, Run for Your Life, and more than a dozen Blue's Clues books.
Before becoming a solopreneur, Debbie worked in TV and video production, producing documentaries for UNICEF, working on Blue's Clues for Nickelodeon, and developing series for Cartoon Network. She has an MA in Media Studies from the New School for Social Research and a BA in Communications from Penn State. In 2019, her husband, and differently wired teen relocated to Brooklyn, NY after living in Amsterdam, the Netherlands for five years.
Vist her website at tiltparenting.com