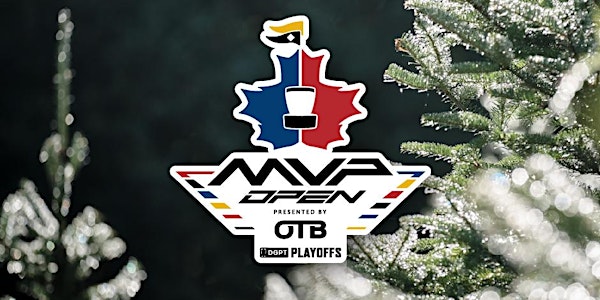 DGPT Playoff - MVP Open Presented by OTB
Spectator tickets for the 2023 MVP Open presented by OTB, a DGPT Playoff event
Date and time
September 14 · 8am - September 17 · 8pm EDT
Location
Maple Hill Disc Golf 132 Marshall Street Leicester, MA 01524
Refund Policy
Contact the organizer to request a refund.
About this event
3 days 12 hours

Mobile eTicket

Paid parking
Who do you want to watch? Only the best! - Kids 9 and under free with paying adult!
In 2023, only the best play Maple Hill. You must be among the top 72 men and the top 40 women to qualify for the MVP Open presented by OTB.
Ticket Levels
General Admission: Access to holes 1, 2, 7, 10-18
Gen Admission +8 Hole: General Admission access plus Hole 8
Gold Tickets: Access to the entire course
Thursday Feature Card Tickets: Access to the entire course for that feature card
Daily Happenings
Special Events
(Events dates may be adjusted based on weather and changes to the schedule.)
9/13: GK Pro Skins, MVP Exhibition Matches
9/14: Meet the Players Flymart, Player Signings
9/15: Million Dollar Shot
9/16: Ice Cream Social, Buffet, Poolball Races
9/17: Pond Jump
Primary Spectator Spots
Tournament Central (holes 1 & 18): Food, Beverages, Vendors, Bathrooms
Sugar Grove (holes 1, 6, & 7): Improved sightlines for these three holes
Hollow Oak (holes 8 & 14): Food, Beverages, Bathrooms
Cutler Place (holes 11 & 13): Food, Beverages, Bathrooms
Night Pasture (holes 16 & 17): Bathrooms, improved viewing areas
Simon Lizotte and Natalie Ryan took it down in 2023 and got to make the pond jump.
Who will jump in the pond in 2023!?!?
The MVP Open tradition of raucous, happy, energetic crowds returned in 2021, grew in 2022, and will blow the roof off in 2023.
LET'S FILL THE FARM!
Whether you are stationary at one of our improved spectator viewing areas (see above), or walking the course with your favorite players, the fun, food, vendors, and players bring your visit to Maple Hill to the next level. We can't wait to see you.
Million Dollar Shot presented by East Coast Metal Roofing
Friday night at 6:00*. Come watch five men and five women take three throws each at the Million Dollar Shot presented by East Coast Metal Roofing.
The highlight of the night was watching the pros having so much fun throwing HUGE shots. Their smiles, mixed with the crowd's energy, made it a magical night.
This year, we want even more cowbell, and hopefully, to give away ONE MILLION DOLLARS!
*Weather and schedule dependent.
THE GREATEST STAFF IN DISC GOLF
If you are thinking about joining, sign up here to get on the Maple Hill Staff waitlist.
Want to watch on Wednesday?
GK Pro Skins ticket
Team MVP Exhibition ticket
Warm-up Wednesday GA ticket
While parking on Wednesday is free, you must have a ticket to be on-site.
MAPLE GETS LIT!
Three nights each year, you can play Maple After Dark. We light up the course and make an attackable 18-hole, par 3, ace-fest. Join us for some MAD fun in the dark. Tee Time Registration required. $20 per round.
Follow the young guns and the wily veterans as they battle their way through the vaunted Maple Hill woods and fairways. Who will come out on top? Will you be there to witness history as crowds return to Maple Hill? We would love to see you. Come experience the fun and wonder of the flying disc.
Come enjoy one of the most scenic and challenging courses in the world. Recharge your happiness meter with friends and family as we all watch the best disc golfers in the world take on the beautiful Maple Hill.
Spectator Rules
Spectators must have a spectator credential on display at all times while on the grounds or you will be escorted off of the property.
Spectators must stay within the provided confines for viewing and must stay off of the playing area and not interfere with other groups in play. There will be event staff and flagged lines directing spectators where to be, you must heed the direction of the event staff. Any persons not following this protocol will be escorted from the property.
Spectators must remain respectful to all players and other patrons. Any unruly behavior will result in your pass being confiscated and you will be escorted from the property. This includes unsupervised or unruly children.
Spectators are not allowed to approach the players. This goes for all areas of the property: the parking area, warm-up area and on the course. Autograph sessions will be set up for after competitor rounds conclude. During the weekend you must not approach the players at any time, for any reason unless engaged by them. Any persons not following this protocol will be escorted from the property.
Spectators are not allowed in the player camping area. Any persons entering this area will be escorted from the property.
No outside alcoholic beverages are allowed in the event. Food and beverage will be available on-site for purchase.
No Pets allowed.
Spectator Camera Policy
No flash photography. This is strictly prohibited and will result in immediate removal from the property.
No live streaming on personal devices. This is also strictly enforced and grounds for immediate removal.
No cameras with detachable lenses or shutters. If your camera makes any sound at all, leave it at home.
Host Hotel
If you are looking to spend the night in Central Massachusetts, look no further than the Holiday Inn Express in Auburn, MA.
$175 per night
Free breakfast
Free wifi
Free parking
Just 10 minutes from Maple Hill
NO STREET PARKING. NO PETS OR WEAPONS of any kind are permitted. All bags, chairs, strollers are subject to being checked. All event attendees will be required to follow current COVID-19 federal and state guidelines.
The ticket holder must be present to claim their credential. Your spectator pass will be given to you upon your arrival at the event. Once you have a credential, this is your only pass for entry to the event all weekend. No exceptions for lost passes.
Disclaimer
BY PURCHASING A TICKET AND ENTERING THE EVENT SITE, YOU CONSENT TO YOUR VOICE, NAME, AND/OR LIKENESS BEING USED, WITHOUT COMPENSATION, IN FILMS AND TAPES IN ANY AND ALL MEDIA, WHETHER NOW KNOWN OR HEREAFTER DEVISED, FOR ETERNITY, YOU RELEASE THE DISC GOLF PRO TOUR, ITS SUCCESSORS, ASSIGNS AND LICENSEES FROM ANY LIABILITY WHATSOEVER OF ANY NATURE.
DO NOT BUY A TICKET OR ENTER THE EVENT SITE IF YOU DO NOT WISH TO BE SUBJECT TO THE FOREGOING.
Refund Policy
You may request to cancel your ticket for a full refund, up to 72 hours before the date and time of the first day of the event. Cancellations between 25-72 hours before the first day of the event may be transferred to a different name or receive a 50% refund. Cancellation requests made within 24 hours of the event may not receive a refund nor a transfer. When you purchase a ticket for an event, you agree to these terms. In the event of a round or multiple rounds being canceled due to weather or other circumstances, the DGPT will consider a partial or full refund at their discretion.