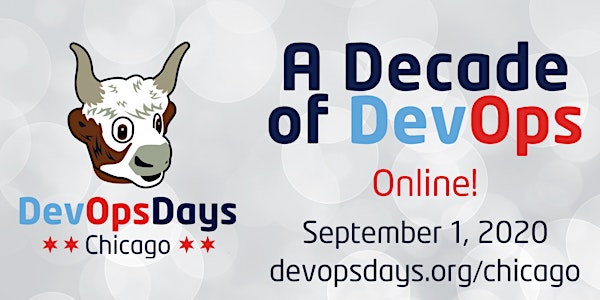 DevOpsDays Chicago 2020
DevOpsDays is coming back to Chicago!
Date and time
Tuesday, September 1, 2020 · 7am - 3pm PDT
About this event
DevOpsDays is coming back to Chicago!
DevOpsDays is involved in the cutting edge of driving collaboration and inclusion of developers, operations, system administrators, and anyone else that interfaces with technology as part of their responsibilities. Presentations, ignite talks, and participant-driven discussions will include topics spanning cultural insights as well as technology solutions including automation, monitoring, and cloud. Whether you want to learn about DevOps, share your experiences, or just talk shop with other DevOps practitioners, DevOpsDays is for you. 
Your ticket provides you with full access to the entire interactive conference experience!
DevOpsDays Chicago 2020 will be fully virtual. Registration is required to participate in the interactive experience. The virtual conference experience will include both text and video interactive participant sessions!
More details on the virtual event experience can be found at https://devopsdays.org/chicago/virtual-event
All attendees, speakers, sponsors, and volunteers at our conference are required to follow the Conference Code of Conduct.
What did people say about previous DevOpsDays Chicago events?
"I walked into the Chicago DevOps conference without a job in tech, at the beginning of my code school learning experience, alone, where I was assured to be the odd person out by being female and having to google DevOps the day beforehand. I walked into that conference and learned so much from the experience." - Cora Hays-Magan
"The talks were informative, enjoyable, and in a few cases, downright enlightening. Open Spaces, the concept of which kind of worried me beforehand, proved to be fantastic forums for sharing. I learned a lot, made some great connections, and can't wait for my next one." - Michael Goodness
"Organizing events is hard. Very impressed with the team that put on @devopsdaysChi. Loved the public retrospective in the open space today" - @czaroxiejka
"I'm a geek + I love tools but I think I finally grokked the Culture + Empathy part of DevOps. Thanks to @devopsdaysChi for making that clear" - @darron
To learn more, please visit the event homepage: https://www.devopsdays.org/chicago/
 For organizations interested in visibility and recruiting, please see our sponsorship options: https://www.devopsdays.org/events/2020-chicago/sponsor/