Description
About the DevOps Bootcamp
This 1-day training program is a great opportunity to learn about how to get started on your DevOps journey. Our hands-on training will show you how dev tools like Git, Jenkins, and Artifactory can be used to optimize your DevOps CI/CD pipeline.

What can I expect?
A collaborative, hands-on environment tailored toward beginner-level attendees.
What do I need to bring?
A desire to learn about DevOps and CI/CD Processes!
Practical knowledge of UNIX based tools
A laptop with the ability to connect to class Wi-Fi
A terminal client installed with the ability to ssh to the class environment
A web browser that can connect without needing your company's proxy
Recommended browsers: Chrome, Firefox, IE, Safari

What is the cost?
The DevOps Bootcamp is complimentary. We require a $99 registration fee that will be refunded upon completion of the class.
Agenda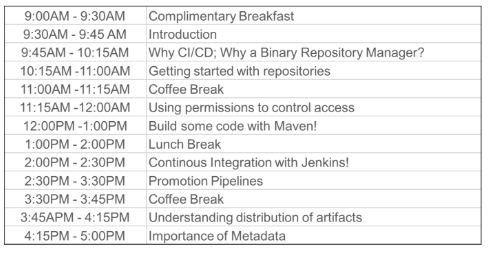 Note: One person limit per company