About this Event
This is a hands-on workshop that gives you ample time to practice what you learn and will cover the following topics:
Examples of Sources of Failures
FDA Expectations for Investigations
Writing Deviations – Problem Definition/Impact Assessment (Risks/Liabilities)/Material Disposition
Group Activity - Break into groups to write an effective problem definition and do Impact Assessment (topics to be given will include API issue, Drug product issue, temperature excursion, labeling issue, shipping issue, complaints
Performing Root Cause Analysis - Review different methods for RCA (5 Whys, Fishbone/FMEA Analysis/Brainstorming, Pareto Charts/Trend Charts)-Spokesperson for each group to present their work to the audience for critique/improvement.
Group Activity - Continue with the problem definition to do a RCA- Spokesperson for each group to present their work to the audience for critique/improvement.
Developing an effective CAPA plan for the same scenario above
Group Activity-Continue with the investigation to do a CAPA- Spokesperson for each group to present their work to the audience for critique/improvement.
After the completion of this course, you will be able to:
Improve your ability to write a clear, concise deviation report
Perform a thorough investigation
Write an effective CAPA plan
Minimize regulatory liability by appropriately documenting findings
Enhance your understanding of what the FDA expects to see from a deviation/CAPA reporting system
About the instructor: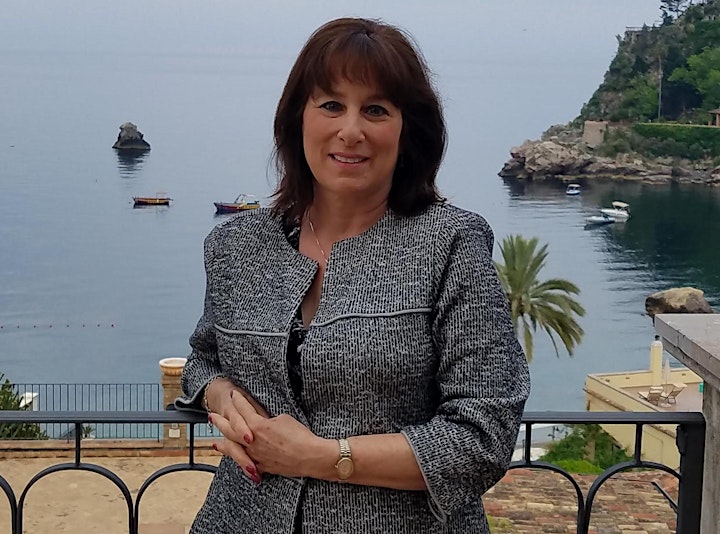 Lisa Helmonds is Vice President of MWA Consulting, Inc. She has over 30 years of industrial training in the areas of Manufacturing and Quality Assurance in the pharmaceutical, biotechnology and medical device industries.
She has extensive GxP knowledge, has worked with several startups and large companies, and understands the challenges facing the industry.
She holds a BS in Zoology from the University of Rhode Island and an MBA from Santa Clara University.
Her current focus at MWA Consulting is on developing and maintaining relationships with MWA's clients, implementing training programs, and ensuring that MWA's consulting team continues to offer the highest quality consulting services in the industry.
FAQs
How can I contact the organizer with any questions?
You can contact the event organizer sending an email to rsvp@wccpda.org, please allows few days for the response, emails will not be monitored on the day of the event.
What are my transporation/parking options?
The event venue is located in Downtown San Francisco, 1min. walking from the Embarcadero BART.
In case you will be driving, please plan your commute ahead of time, considering there could be traffic getting into San Francisco and difficulties to find street parking.
We are not affiliated or endorse any parking garage, however here a map of parking spaces that close at 22:00 nearby our event venue. Please check the time and rates ahead of time as they might change and we do not check them (i.g. #3 Golden Gateway on 250 Clay St rate is $1/hr after 6pm until close, 10pm):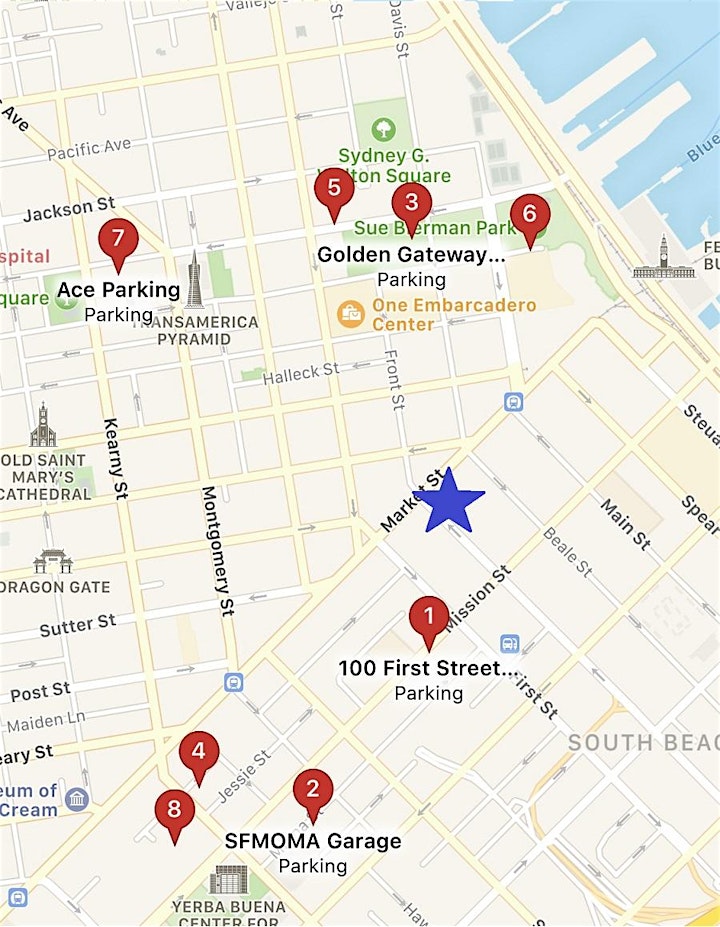 Warning: there might be other garages nearby, however they might close earlier than our event ending.
How can I access the event venue?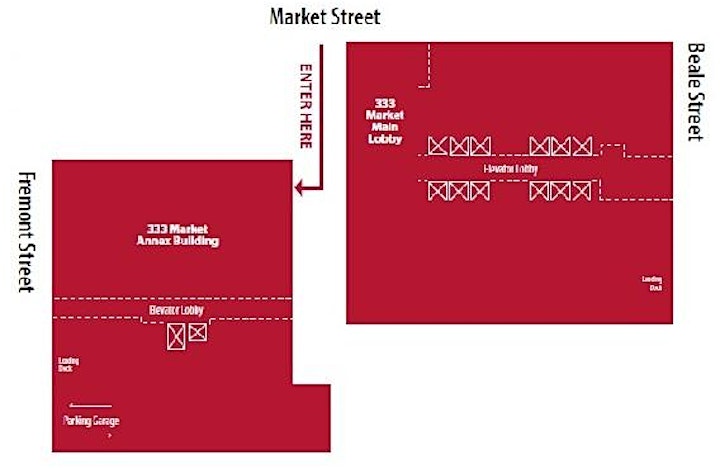 Who can I contact if I am not able to locate the event venue and/or I cannot access the building?
If you need support on the day of the event for building access or location call 6502968044
Is my registration transferable?
Yes, you can transfer it by 12APR20 to whoever would like to attend in your behalf. Registration is not reimbursable
My company would like to become a WCC PDA Sponsor, do you have a sponsorship program?
Yes, our WCC PDA Sponsorship Program offers a unique opportunity for companies that want to strengthen brand image, increase visibility, and gain access to leaders of the San Francisco Bay Life-Science Community
What is the dressing code?
Business casual
Cancellation Policy:
Registration is confirmed and reserved in advance. We regret that no refunds can be offered for non-attendance. If a registrant cannot attend, substitutions are welcome by 12APR20. The chapter reserves the right to cancel the session if the minimum number of attendees is not met by Monday prior to the event. The chapter reserves the right to not answer emails or phone calls on the day of the event
Privacy Policy:
We manage your personal data responsibly and align with PDA privacy policy.
REGISTRATION AGREEMENT: by registering to this event I consent the WCC PDA to record and/or photograph me and using those recording and/or photographs in the future WCC PDA promotional and marketing material, and to send me promotional information via email.