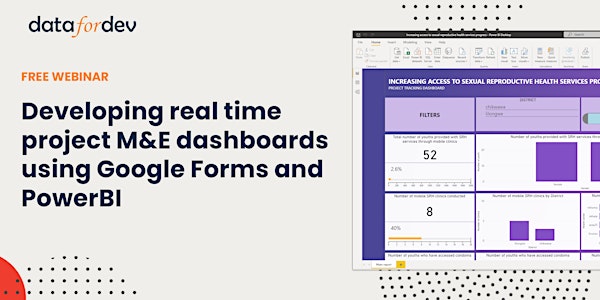 Developing real time project M&E dashboards using Google Forms and PowerBI
Learn how to develop interactive real-time project tracking dashboards using Google Forms and PowerBI
About this event
Details
Google Forms lets you develop and deploy data collection forms for free.
PowerBI is one of the best free tools for developing interactive data visualizations and dashboards.
Connecting these two platforms allows you to implement a no-cost digital M and E solution with data collection forms and interactive reports.
Join us in this FREE 2-hour online workshop where you will learn the complete process of developing interactive data dashboards for project Monitoring and Evaluation using Google Forms and PowerBI.
The great thing about this course is that all our case studies and examples are drawn from the field of social impact/humanitarian work – which means you will be able to immediately apply the skills to your line of work.
What will be covered in the workshop
Introduction
Components for a digital M and E solution
Options for digital M and E
Free tools for digital M and E
Why Google Forms and PowerBI as digital M and E solution
Developing data collection tools using Google Forms
Getting started
Creating the form
Entering data
Connecting the form with Google Sheets
Developing dashboard in PowerBI
The PowerBI interface
Connecting Google Sheets to PowerBI
Developing visuals
Assembling visuals into a dashboard