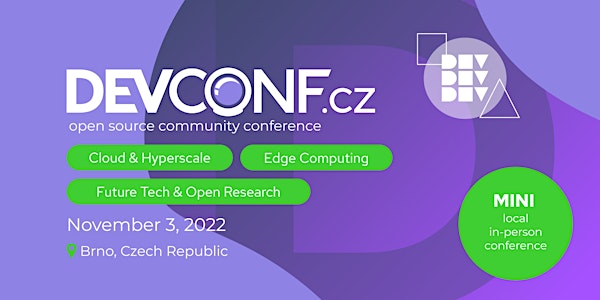 DevConf.cz Mini | November 2022
DevConf.cz Mini | November 2022
When and where
Location
Faculty of Informatics Masaryk University 68A Botanická 602 00 Brno-Královo Pole Czechia
About this event
DevConf.cz Mini is a bi-annual, highly focused, local, in-person version of DevConf.CZ.
It offers an opportunity to return to our conference themes in a smaller setting and establishes a platform for the Czech Republic and EMEA based community to sync, share and hack on upstream projects together.
There is no admission or ticket charge for DevConf.CZ events. However, you are required to complete a free registration.
We are committed to fostering an open and welcoming environment at our conference. We set expectations for inclusive behavior through our code of conduct and media policies, and are prepared to enforce these.