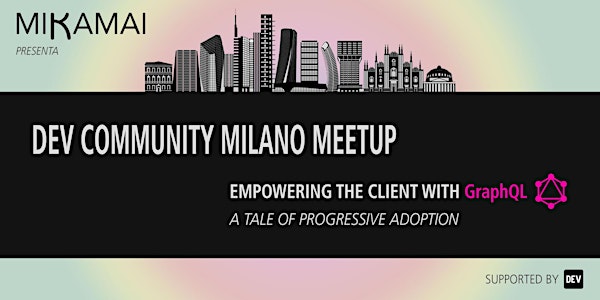 DEV Community Milano Meetup - Empowering the client with GraphQL
Location
Mikamai
42 Via Giulio e Corrado Venini
20127 Milano
Italy
Description
Mikamai
è fiera di organizzare il
primo meetup italiano della DEV Community
, ospitando un doppio talk su GraphQL e i nuovi pattern per sviluppare API per il web.
Talk Title: Empowering the client with GraphQL - a tale of progressive adoption
Backend Talk Abstract:
Nel mondo del cloud computing e delle applicazioni mobile, nuove tecnologie sono emerse per dare più potere ai client e rendere i backend agili e leggeri. Scopriamo come GraphQL ci offre una maggiore flessibilità rispetto agli approcci tradizionali, e come progettare schemi API che siano allo stesso tempo facili da comprendere e potenti da utilizzare.
Frontend Talk Abstract:
L'aumento della popolarità di applicazioni mobile e di nuovi dispositivi intelligenti, con interfacce sempre più esotiche, ha reso difficile il lavoro degli sviluppatori frontend soprattutto quando connessioni lente e instabili, improbabili requisiti di design e API oscure e contorte fanno di ogni singolo dispositivo un'isola a sè stante.
Ma un frontend non può esistere senza dati aggiornati e le attuali API non rendono facile tutto questo. Vediamo come GraphQL può aiutarci a gestire al meglio il tipo e le quantità di dati di cui abbiamo bisogno
Speakers:
Matteo Joliveau (Cloud Solution Architect @Mikamai)
Mattia Panzeri (Unconventional Frontend Engineer @Mikamai)
L'evento è supportato da
DEV
, che ringraziamo per il supporto!