Description
Risograph is a single colour printing technique which is akin to silkscreen printing. By applying pressure with a paint roller, the ink penetrates the small holes on a sheet of paper and creates the print. Risograph produces a unique result on each sheet of paper and the nuances in the outcomes are what makes this technique special. This nostalgic printing method, combined with the 18 specialised colours made in Japan, including neon pink, neon orange, gold and other sharp hues, can create innovative visuals like no others. This workshop provides a first-hand experience of two-colour Risograph printing. Participants can enjoy the process of printing from paper selection to binding and at the end create a one-of-a-kind notebook.
孔版油印(Risograph)是一種單色印刷,近似絲網印刷的一種印刷技術,透過油墨滾筒壓印,油墨穿透版紙上的小孔,影像就會印在紙張上。每張印刷品均有些微差別,成為了孔版油印的一大特色。充滿懷舊質感的印刷,再配上由日本訂製18隻專色,包括螢光粉紅、螢光橙、金色⋯⋯等,鮮艷的顏色加上網點的效果,呈現出一種全新視覺效果。這次的工作坊主要體驗兩色孔版油印,參加者可親手體驗製版、印刷、選紙、釘裝,製作一本完全屬於自己的筆記本。
Free admission | 費用全免
Workshop schedule | 工作坊時間表 :
SAT (六) 26/11 2:00pm - 5:00pm
SAT (六) 3/12 2:00pm - 5:00pm
SUN (日) 4/12 3:00pm - 6:00pm
Workshop venue | 工作坊地點 :
S710-711, 7/F, Block A, PMQ 元創方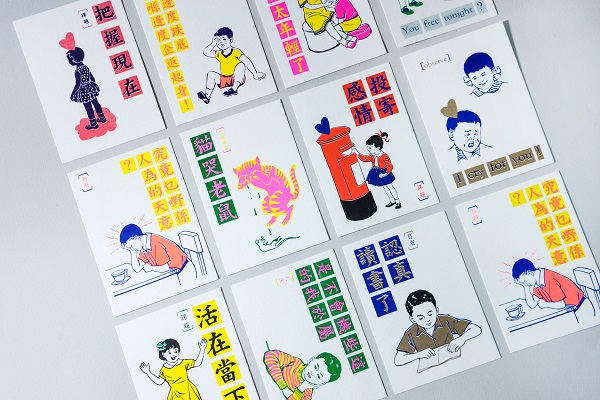 ---

About Print Studio Ink'chacha
Ink'chacha, establish in 2013, is a creative printing studio that combined various printing techniques. Ink'chacha is focused on personalized printing and mixes multiple printing methods to breakthrough the commercial boundary of small-run printing. The studio also provides services such as gold stamping, letterpress printing, polygonal cutting, and has a supply of over 1000 kinds of quality paper. Ink'chacha hopes to bring the joy of creative printing to the general public.
關於策冊文化
策冊文化2013年成立,是一間集合了各種印刷技術,把創意融入印刷的工作室。主力提倡個人化的印刷品,組合不同技術希望可突破小量印刷之局限,包括燙金技術、活版印刷、多邊形裁切咭片、以及上千種不同紙張等。希望大眾也可享受到印刷帶來的喜悅。
www.inkchacha.ink
---
Registration Rules & Regulations :

All applicants are required to submit a HKD 100 deposit (per head per registration), via bank transfer to the below account to confirm the registration. Receipt must be sent to hi@inkchacha.ink ( Please include in the email Name of the Applicants, Contact number/ email AND the registering workshops - with Date and Time) within three (3) days after initial online registration.

HangSengBank
364-304-824-883
Print Studio Ink'chacha (HK) Limited
Any applicants who fail to submit the HKD 100 deposit within three (3) days of registration, the application to the corresponding workshop will automatically be deleted.

An official confirmation email will be sent to your registered email address upon receipt of the HKD 100 deposit. The deposit will be refunded ONLY to applicants who attend the corresponding workshop on the registered date.

報名須知:
所有參加者須在網上報名後三日內,遞交 HKD$100(每位參加者) 的訂金作留位費,轉帳至以下的銀行戶口,並將入數紙電郵至hi@inkchacha.ink (請列明閣下之姓名,聯絡方法 及 所報名之工作坊, 包括所選之日期及時間),方為完成申請。
恆生銀行
364-304-824-883
Print Studio Ink'chacha (HK) Limited
參加者如不在三日內遞交 HKD$100 留位費,是次報名將不獲接納。

訂金收妥後,主辦單位將會電郵確認是次報名申請。工作坊當日,參加者將獲退還全數訂金。
如參加者成功報名後未能如期出席工作坊,已繳交之 HKD $100 恕將不獲退款。


---