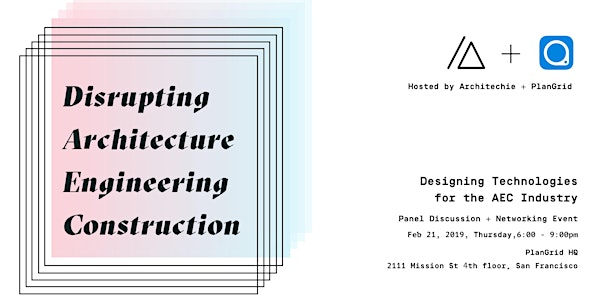 Designing Technologies for the AEC Industry - Architechie Panel Discussion & Networking
Date and time
Thursday, February 21, 2019 · 6 - 9pm PST
Location
PlanGrid 2111 Mission Street #4th floor San Francisco, CA 94110
Description
Join us for an evening of panel discussion and networking event at hosted by Architechie and PlanGrid HQ with a group of technology product and design leaders discussing how digital products and platforms are reshaping a trillion dollar Architecture and Construction industry.
About Architechie
Architechie is a community founded by ex-architects and designers who now work in technology fields including experience design, AR/VR, software development, and connected environments.
Our mission is to drive design discourse and relevance by bringing more diverse backgrounds to the tech industry. We strive to bridge the gap between "other" design fields and technology, bringing new perspectives to an increasingly uniform industry.
About PlanGrid
PlanGrid provides a cloud-based construction document collaboration platform that allows plans, markups, photos, and reports to be instantaneously shared with everyone on a construction project. Its platform lets contractors and architects collaborate from their desktop or mobile devices across all their project.
PlanGrid was recently acquired by Autodesk to lead its newly formed digital construction group

Disscusion Panelists
Scott Reynolds
Co-founder and CEO at UpCodes, a YC-backed software workflows system to manage building code compliance, serving 180k MAU. He has spent several years as an architect in Hong Kong and New York City, focusing on international projects. Scott has leveraged his background in architecture to launch and scale a startup serving AEC.
Ye Wang
Ye is a Co-Founder at Join, a startup helps make design-and-build decisions more coherent.. Ye studied computer science and developed 3D design tools at Autodesk and their competitor, Onshape. Her passion is to bridging design and reality.

Sijie Zhang
Product Manager for BIM 360 Admin at Autodesk, connecting project, user, and company partner data across BIM 360 enterprise to support data analytics and machine learning. Prior to Autodesk, Sijie led R&D for advanced visualization in construction and automated design review processes.

Matt Burness
Matt is a Product Manager in the Lifecycle team at PlanGrid focused on collaboration in AEC. Architect on residential & large commercial projects, and a tech startup streamlining design and construction via automation and prefabrication.His passion for AEC is helping to design and build great spaces in which people live and work.
Date/Time
Feb 21, 2019, Thursday, 6:00 - 9:00pm
6:00pm - 6:30pm Drinks and snacks
6:30pm - 8:00pm Presentation + Panel discussion
8:00 - 9:00pm Networking + mixer

Location
PlanGrid HQ
2111 Mission St 4th floor, San Francisco
About the organizer
Architechie is an intrepid band of architects now working in the tech industry and helping others do the same. We host events, workshops, and throw a killer happy hour.