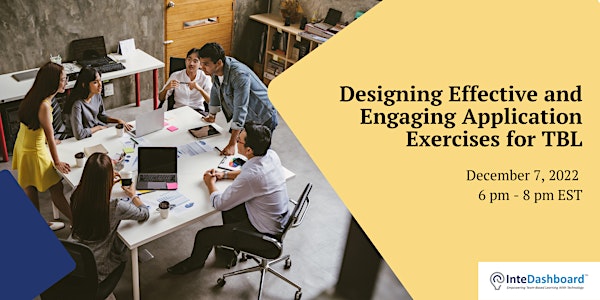 Designing Effective and Engaging Application Exercises for TBL
Find out how you can create interesting application exercises that support intended learning outcomes for team-based learning.
Refund Policy
Contact the organizer to request a refund.
Eventbrite's fee is nonrefundable.
About this event
About this workshop
In health professions education, it is critical that learners practice applying and integrating knowledge to solve complex problems. To achieve this, many educators utilize Team-Based Learning (TBL), an effective instructional strategy that actively engages learners in their own learning. A key component of TBL is the 4S application exercise, which requires learners to apply key concepts to complex, authentic problems. For 4S application exercises to be effective, they must pose a significant and specific problem. While multiple-choice questions (MCQs) can present complex problems that require higher-order thinking, many educators rely, almost exclusively, on MCQs as the basis for their application exercises. Alternatively, when guided by intended learning outcomes, educators can create TBL application exercises that challenge learners to apply their knowledge in new and interesting ways. In this introductory session, participants will use backward design and a menu of application exercises specifically suited for TBL to design engaging and effective application exercises. By applying the principles of backward design, participants will identify the intended learning outcomes for their content, connect the new and prior knowledge the learners must integrate, and create exercises that support meaningful learning beyond the MCQ.
The workshop will use a team-based learning (TBL) format where attendees will participate in facilitated small and large-group discussions.
Who this is for?
New TBL facilitators who want to design application exercises that pose complex problems in novel and interesting ways
Experienced TBL facilitators who want to grow their portfolio of effective and challenging application exercises
Learning Objectives
At the end of this online workshop, participants should be able to:
Characterize TBL application exercises according to their 4S attributes and benefits.
Align application exercises with intended learning outcomes through backward design.
Design problem-based application exercises that require complex analysis and concrete action.
Assemble a diverse portfolio of application exercises that support higher-order thinking.
----------------------------------------------
Facilitators
Amanda Chase, Ph.D.
Dr. Chase is an Associate Professor of Medical Education and Thread Director of Interprofessional Collaboration. Currently, she co-directs a Cardiovascular, Pulmonary, and Renal Block where she collaborates with educator teams to deliver innovative TBL sessions using the InteDashboard platform. Throughout her career, Dr. Chase has focused on meaningful learning experiences to promote adaptive expertise and learner success in early medical education. She contributes to faculty development nationally and has facilitated dozens of workshops on the scholarship of teaching and learning at leading conferences on health professions education. Dr. Chase is actively involved in peer mentorship through the International Association of Medical Science Educators where she Chairs the Educational Scholarship Committee and serves as a mentor for the Medical Educator Fellowship Program.
Amber Heck, Ph.D.
Dr. Heck is a biomedical science educator with expertise in curriculum design and development for health professions education. She focuses her efforts on developing engaging and effective learning experiences, supported by neuroscience, cognitive theories, and evidence-based teaching practices. Over her career, Dr. Heck served as founding faculty within medical education programs at multiple intuitions, where she collaborated with interprofessional teams to develop innovative, flipped classroom, active learning curricula. She is skilled in a broad array of instructional methods, including team-based learning, case-based learning, and problem-based learning. In 2020, Dr. Heck was awarded the International Association of Medical Science Educators (IAMSE) Early Career Award for Excellence in Teaching and Innovation. She is active within the health professions education community and contributes to scholarship, faculty development, and peer mentorship, internationally.