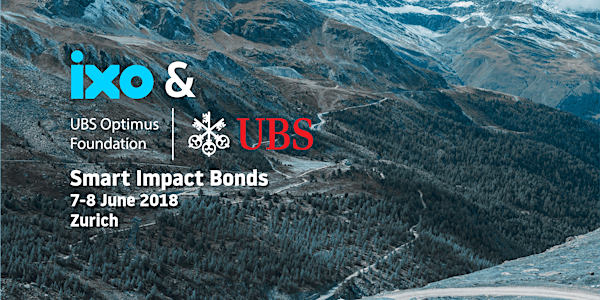 Design Workshop: Smart Impact Bonds 1.0
When and where
Location
Max-Högger-Strasse 80-82 8048 Zürich Switzerland
Description
THIS EVENT IS SOLD OUT
The UBS Optimus Foundation & the ixo Foundation warmly invite you to a facilitated design workshop to create the next generation of impact financing mechanisms, using Web3 and blockchain technologies.
In this inaugural workshop, we will focus on the requirements and opportunities for bridging traditional systems with new technologies, to design Smart Impact Bonds.

The goal of the event is to generate 3-5 technical white papers on topics decided by the group, that will make the greatest collaborative contributions to the future of impact financing.
All successful applications will be asked, in advance, submit a short (1-3 pages) concept note on a topic that could be of interest to the group, or alternatively, a suggested reading that is based on relevant work they have already undertaken. This format follows the well-proven Rebooting the Web of Trust design workshops series that has generated key community-driven specifications for digital identity. Contributors will be rewarded with a bounty offer of IXO Tokens. Please email your concept notes to Lisie Beeley, lisie@trustlab.tech. Due date for submissions is 1st June.
There is assistance available for a limited number of people who cannot self-fund their ticket. Please contact Lisie for further information.
We very much look forward to seeing you in June!
Best wishes,
Dr Shaun Conway
Workshop Facilitator & Founder of the ixo Foundation
N.B. Once we have received your application, we will notify you within one week as to whether you have been successful in securing a place in the workshop.